Wrexham's action plan to save historic buildings backed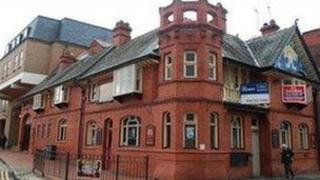 Councillors in Wrexham have backed an action plan to save historic buildings from being lost to future generations.
Wrexham council wants to make sure 82 structures are not forgotten and left to languish.
Those in danger of being lost include old pubs, memorials, gates, signs and graveyards.
A strategy was approved at a meeting on Tuesday. Officials have already cut the number in the at risk category by 29% since 2002.
They are now keen to ensure others such as the medieval bridge at Holt will not go to waste and have ranked them on a four-tier sliding scale from "grave risk" to "vulnerable".
Extreme risk
Those at grave risk include The Dymock Arms in Penley, which was damaged by fire, and the vertical winding engine house at Wynnstay Colliery.
Plas Newydd at Ruabon and Fenn's Moss Peat Processing Works in Bronington were classed as extreme risk, with some graves at All Saints Church, Gresford and the Seven Stars pub, Wrexham, categorised as at risk.
Vulnerable structures included the Cup and Saucer hydraulic ram at Erddig and Ruabon railway station.
In many cases the council has drawn up a tailored action plan to approach private owners and encourage them to maintain the buildings.
In a report, head of community Lawrence Isted said: "Regular maintenance and inspection of an historic property allows for the early identification of problems, saving both time and money in the long term."
'Expressing ourselves'
Architectural historian Mark Baker told BBC Wales it is the responsibility of local authorities to look after historic buildings.
He said the Welsh government's heritage service, Cadw, does not have the remit to look after buildings at risk.
"It's great that Wrexham is taking the initiative to look at the issue. It's quite a worrying issue because much is being lost," he said.
He gave the example of Plas Dulas, one of most historic buildings in Llanddulas, Conwy. It dates back to the 1780s and is set to be demolished.
Mr Baker said: "I think, as with most things, fashion is an important factor. Twenty to 30 years ago it was more fashionable to be saving the bigger properties and now people have gone to a smaller scale.
"It's all about identity, a cultural heritage and how we have been expressing ourselves through mostly culture and it is trying to preserve that for the next generation."