Welsh Secretary Cheryl Gillan in tobacco hospitality row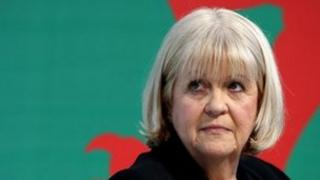 Welsh Secretary Cheryl Gillan has been criticised for accepting hospitality from a tobacco company.
The Wales Office published details of her visit to Chelsea Flower Show as a guest of Japan Tobacco International.
Labour MP Nia Griffith said it was inappropriate as the Welsh government was making further efforts to reduce harm from smoking.
The Wales Office said Mrs Gillan went to see Welsh gardens and did not accept the full hospitality on offer.
The listing for the hospitality on 24 May this year referred to "two tickets to the Chelsea Flower Show with lunch" and a spokeswoman said the Chesham and Amersham MP had not accepted the full hospitality on offer.
However, Ms Griffith, the shadow Wales Office minister, said: "Quite why the Secretary of State for Wales would think it appropriate to be wined and dined by an international tobacco firm is beyond me.
"At a time when the terrible effects of smoking are recognised and accepted more than ever, and when the Welsh Labour Government is looking at ways of further reducing the harm done by tobacco, Cheryl Gillan apparently thinks it fine to live the high life on Big Tobacco's tab."
The Welsh government is debating banning smoking in playgrounds and hospital, sports and school grounds, and a possible ban on smoking in cars carrying children.
The government's tobacco action plan is part of a proposal to cut smoking in Wales from 25% of the population at present to 16% by 2020.
Ms Griffith continued: "I would like Mrs Gillan to outline the nature of her meeting with Japan Tobacco, and explain what benefit it brought to the people of Wales.
"If she is unable to do this, questions will quite properly be asked as to why she took this hospitality in the first place."
BBC Wales' parliamentary correspondent David Cornock reported a source close to Cheryl Gillan, who said Labour attacks on her acceptance of hospitality from a tobacco firm were hypocritical as a Labour AM once worked as a lobbyist for the Tobacco Manufacturers' Association.
A spokeswoman for the Wales Office said: "The Secretary of State attended this event as a number of Welsh gardens and horticultural experts were being featured.
"Whilst she accepted two tickets, one for herself and another for an official, she did not attend the full hospitality offered by Japanese Tobacco International and rather took the opportunity to visit and pay tribute to the Welsh horticultural expertise on show."
Japan Tobacco International said in a statement: "Like many other businesses, we invite politicians and their parliamentary staff to certain events as they provide an opportunity for us to engage with them about JTI in an open and transparent way."
Some of Mrs Gillan's other declared hospitality events between April and June included two tickets to the Welsh National Opera, an Institute of Directors dinner, lunch at the University of Wales Institute and a Swansea Business Club lunch.