Buckley autism centre closure bid prompts anger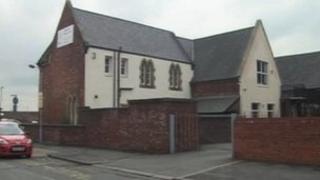 A specialist centre for children with autism is set to close in Flintshire despite protests from parents.
Earlier this year, more than 300 people joined a online campaign to retain Buckley's Applied Behavioural Analysis Unit at Westwood primary school.
But Flintshire councillors voted on Tuesday to close it as alternative facilities are available at Ysgol Pen Coch, a specialist school in Flint.
Parent governor Simon Johnson said: "I don't think we'll be giving up yet."
He added: "I'm fairly sure there are going to be objections by parents and other interested stakeholders.
"That means it will have to be referred to the government minister responsible for education in Wales."
'Orchestrated attempt'
Miles Littlewood, who has a three year old son at the centre, says he is "very disappointed" at the council's decision, but will be lodging a formal objection.
Stanley, has been attending the centre for the past nine weeks and has made "amazing progress," said Mr Littlewood.
His older son, Michael, aged eight, also attended the centre for over four years and is now a pupil at a school in Wrexham.
"We decided to send Stanley to Buckley because of the fantastic help that Michael received," he said.
Flintshire council says only two pupils remain at the unit in Buckley, but Mr Littlewood accused the authority of an "orchestrated attempt to wind the unit down".
A council spokesman said: "Appropriate alternative provision will be made for each child."