Conwy Castle centre plans face refusal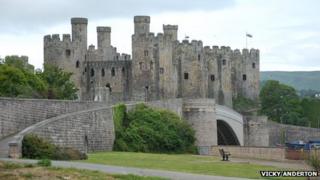 Plans to improve the visitor centre at Conwy castle are set to be rejected by planners.
Cadw, the Welsh government's heritage body, has applied to redevelop the centre, including a new entrance porch on the site.
But the design has been criticised for not fitting in with the rest of the world heritage site.
Councillors meeting on Wednesday are being advised to reject the plans.
Under the proposals, a 6m high aluminium and brass porch would be erected at the entrance to the current visitors centre, which allows access to the 13th Century castle.
The planning bid is being backed by European funding under a heritage tourism initiative, with the aim of improving facilities at the castle.
All sides in the planning issue have agreed that improvements to the visitor centre would normally be welcomed.
Conflicting
But the suggested design of the porch has forced the council's planning officers to recommend that the current plans are rejected.
"Officers consider that the proposed built form and materials would conflict with the more traditional appearance of the existing building," states a report being presented to Conwy council's planning committee.
The planning officers' views have been backed by several conservation bodies, including the Ancient Monuments Society, the Council for British Archaeology, and the Society for Protection of Ancient Buildings (SPAB).
"The proposal is quite a dramatic change, introducing a built form and materials that contrast with the existing building and the surrounding context," warned SPAB in its submission to the council.
However, council planners said they would recommend the development if Cadw resubmitted a more appropriate roof design.