Plaid Cymru reinstates Neil McEvoy after Facebook row suspension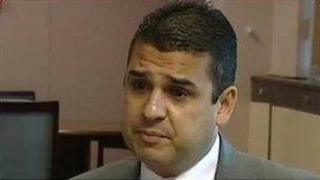 Cardiff Council's deputy leader Neil McEvoy has been reinstated as a member of Plaid Cymru after an investigation by the party.
Mr McEvoy was suspended for accusing a women's aid group of "publicly funded child abuse".
He wrote on Facebook that Welsh Women's Aid (WWA) supported women who break court orders on child access. WWA denied the claim.
He later apologised but has been given a formal warning.
Plaid Cymru chairwoman Helen Mary Jones said: "The unanimous decision of the panel was to uphold the complaint against Neil McEvoy.
'Deeply regrettable'
"Mr McEvoy has been issued with a formal warning as well as instructions with regard to his future conduct.
"Plaid Cymru would like to take this opportunity to restate our support for Safer Wales, Welsh Women's Aid and all organisations who work tirelessly to protect women, men and children from violence."
A Welsh Labour spokesperson said it was "deeply regrettable" he had been reinstated.
Labour councillor Cerys Furlong claimed that Mr McEvoy had still to "apologise properly".