WJEC says exams not compromised after investigation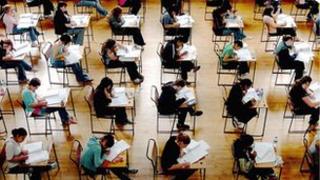 The Welsh exam board WJEC says its investigation into claims examiners gave teachers unfair advice has found exams have not been compromised.
It said teachers at its GCSE training course would not have benefited unfairly from the advice they received.
Last week the Daily Telegraph said that it had filmed an examiner telling teachers at a paid-for seminar which questions to expect.
It led to the suspension of two WJEC examiners.
The exam board said it had undertaken "an in-depth internal investigation" into the issues raised by the newspaper.
The Daily Telegraph filmed a WJEC examiner at one seminar on GCSE history telling teachers that a compulsory question in the exam "goes through a cycle" or a pattern of questions.
He gave the subjects for the upcoming exam, adding: "We're cheating, we're telling you the cycle. Probably the regulator will tell us off."
The WJEC said its investigation into the upcoming history exam found its "security and integrity" had not been compromised by the examiners' comments.
'Unacceptable and inappropriate'
It said the information conveyed to teachers at the seminar was available to all teachers on its website and not only to those who attended the course.
But it said the wording used by examiners was "unacceptable and inappropriate."
As a result it said would monitor future professional development courses by recording them and ensuring senior staff attend a representative sample.
It also pledged to improve the quality of advice and guidance provided to contributors to courses.
In a statement it said: "We wish to assure teachers, students and parents that they can have full confidence in the standards of qualifications offered by WJEC and in the integrity of our work in supporting teachers through professional development courses and specialist advice."
It said it would continue to cooperate fully with the exam regulators in England (Ofqual) and in Wales (DfES) in their investigations.
The Daily Telegraph sent undercover reporters to 13 professional development seminars organised by boards used by English schools, where the Welsh exam board has become more popular in recent years.
On Thursday Welsh Education Minister Leighton Andrews ordered a review into the market for qualifications in Wales.
It will look at possible alternative systems, including whether there should be one provider instead of competing exam boards.