Weather warning: Snow forecast in Wales on Friday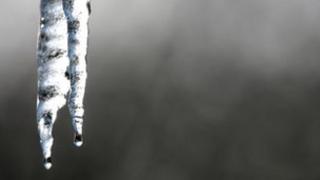 Snow may cause travel disruption in parts of the country on Friday morning, the Met Office is warning.
Up to 10cm of snow could fall on higher ground but it is also possible on lower ground in mid Wales and the south Wales valleys.
Although there was ice on roads in some parts on Thursday forecasters said worse weather was likely to follow on Friday.
A lightning strike was causing south Wales rail service delays.
Signalling equipment was damaged in the Llantrisant area causing problems on the main line between Cardiff and Bridgend.
On the roads, strong winds caused the closure of the M48 Severn Bridge but it reopened by 08:00 GMT.
The Met Office warns that heavy rain will turn to snow in the early hours of Friday. Sleet is more likely on lower ground but snow has not been ruled out.
There are warnings of ice on Saturday and Sunday morning which could cause hazardous driving conditions in some areas.
BBC Wales weather presenter Sue Charles said: "Winds start to pick up on Thursday afternoon then outbreaks of heavy rain push into Pembrokeshire spreading north-eastwards through the night. Up to 50mm (two inches) of rain is possible.
Cold snap
"As the temperatures drop overnight, this is likely to fall as snow. The snow is likely to accumulate over time with a risk of up to 10cm over higher ground.
"Snow is not just likely to be in the hills and mountains, but also likely at lower levels in mid Wales and the south Wales valleys. It's more likely to fall as sleet along the coast."
While the wintry weather continues, police are advising drivers to ensure they have plenty of fuel in the tank, fully charge their mobile phones before setting off, and to carry warm waterproof clothing, food, water and a torch.
A flood alert on the Rivers Wye and Monnow has been stood down.