Carwyn Jones and Vince Cable at Cardiff China trade talks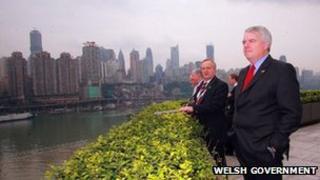 First Minister Carwyn Jones and UK Business Secretary Vince Cable have attended trade talks with Chinese delegates in Cardiff.
China's UK ambassador and representatives from 40 of its leading companies met at City Hall.
Businesses will compete to attract investment from one of the world's fastest-growing economies.
Mr Jones recently led a delegation to China trying to drum up interest in Welsh companies and higher education.
During the visit in October, the first minister signed a memorandum of understanding with the mayor of Chongqing, one of China's leading industrial cities.
The agreement means expertise in a range of industrial, social and cultural activities will be shared.
Mr Jones is also keen to establish a direct air link between the two countries to maximise Chinese investment here.
Also at the event, Mr Cable met Welsh Business Minister Edwina Hart for the first time. Earlier this month, Mr Cable told MPs he had not met Mrs Hart since her appointment to the role after May's assembly election.
Speaking after the event, Mr Jones said: "Wales is a willing and active member of Europe and Chinese companies looking to establish themselves in Europe will find Wales an ideal location to invest and base themselves.
"My message is simple - Wales is an excellent place in which to locate and do business."