Cenarth Primary School head denies Christmas card ban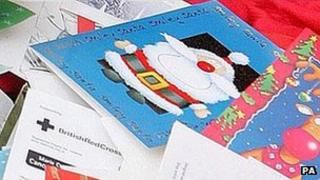 An "eco school" has denied reports primary pupils have been banned from sending each other Christmas cards.
Gwyneth Alban, head of Cenarth Primary School in Ceredigion, said the claim was a "total and absolute untruth".
It was reported in local and national newspapers that a ban was aimed at cutting waste.
She said the 77 pupils had been making joint class cards but they could still give their own individual cards.
Mrs Alban said of claims that children had been forbidden from giving classmates cards: "We would never do that. It would just never happen."
She also denied any cards had been confiscated.
"Of course they can send cards - they've done so all along. Of course we would not stop them."
Cenarth Primary is an eco-school and awaiting its green flag status and this was part of the 'eco-plan'.
'Total trust'
Mrs Alban said: "What we decided was to try and avoid such a large number of cards changing hands. Our three classes made a card each for each other and then delivered them. It's been absolutely lovely.
"And some pupils have given their own cards to their special friends."
Mrs Alban said the response from parents has been positive and put it down to one person contacting a newspaper, who had not complained to her.
She said: "We've had messages of total support from everybody. I have not had a single complaint about the Christmas card issue.
"All parents have total trust in myself and my staff."