Diaries to capture a slice of Anglesey life in 2012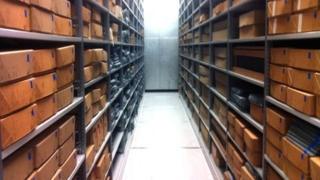 Anglesey historian Pat West struggles to open the heavy steel doors of what she calls "the pod".
Behind the gun-metal grey portal lies shelf upon shelf - some overflowing - others empty. It is enough space to hold documents stretching three miles if laid end-to-end.
It is the new Anglesey county archive - and it will also house hundreds of new diaries being filled in as part of a unique project in 2012.
"It is a way of getting people to write, it allows everyone the chance to take part if they want to, but also it is a way of reflecting how important archives are," explained Pat West, Anglesey council's principal officer for museums, culture and archives.
"We already have lots of diaries in the archives in Llangefni, and we glean such a lot of information from them."
So, over the last month there has been a steady stream of visitors to the archive centre and the island's Oriel Mon gallery to pick up A5-sized hardback diaries, ready to begin filling them out from New Year's Day.
The hope is that the project will capture a snapshot of life on Anglesey in 2012.
'Buddy' programme
Stored in the county archive, the diaries will then become a reference for generations to come, whether it is those just interested in jogging their memory in a few years time - or academic researchers in the next century and beyond.
"The only thing we are saying you must do is to write regularly," stressed the historian.
"Whether that's every day, twice a week, once a week, write regularly and try to keep it up for the year."
Those taking part in the project have been asked to try to find a writing buddy who will help keep them on track throughout the year, and ensure the diaries are filled out.
The buddy partners also provide a key theme to the diary project - painting a picture that spans the generation gap.
"My writing partner is older than I am, and that is the inter-generational thing for us," explained Mrs West.
"She will write her own diary, and then every so often we'll get together and we'll say: 'What have you been putting in yours?' - and then she might think: 'Oh yes, I can comment on that'.
"And of course it is a good way of keeping everybody going - because it is a very difficult thing to keep going - to keep a diary for a whole year."
But the buddy scheme is not just tied to individuals. One island women's group has signed up to the project and 12 of them will keep the diary for a month each.
A writers' group also wants to take part - along with schools - including Ysgol Kingsland primary school in Holyhead.
Handwriting skills
"I think they'll got a lot out of it," said Gareth Pawson, who teaches Year 5 and 6 at Ysgol Kingsland.
"They can record things about their families, their day-to-day life, maybe even about the prices of sweets - and how things change over the year."
The school children in Year 6 will be filling in a large journal two or three times a week, and handing it back to the county archive in 12 months.
"It slots nicely into our English skills, writing and handwriting. It is going to be very beneficial for them," added Mr Pawson.
"And I'm going to be doing two or three entries a week, a bit about my life, my family, and while the children might be writing about the price of chocolate - I could be writing about the price of petrol.
"I think it will encourage people in years to come to make use of the archive. It doesn't have to be in 20 years time - in five years, if the children look back I'm sure they will have fond memories of seeing where everyone is now."