£19m Gwynt y Môr wind farm cash for north Wales over 25 years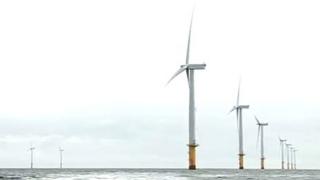 A two-month consultation is under way into how best to spend £19m in north Wales communities affected by the Gwynt y Môr wind farm.
The cash will be released in a project lasting 25 years.
The 160-turbine farm is being built by RWE npower renewables 8 miles (13km) off the coast of Llandudno.
The developers are asking the public to tell them how to spend more than £750k a year, once the windfarm begins operating in 2014.
"This is the largest consultation exercise we've ever commissioned for our community benefit funding," said Katy Woodington from RWE power renewables.
"The aim is to gather honest opinions about the key priorities for communities, how the fund should be run, who it should help, which geographical areas it should cover, what type of projects should qualify for funding and who should make decisions about funding applications."
The company has set-up an online questionnaire to gather views, and is also holding a series of workshops aimed at helping people fill in information.
400,000 homes
The first workshop began on Thursday in Holywell, Flintshire, with a further three planned at Rhyl, Llandudno and Colwyn Bay over the coming month.
"We'd like as many people as possible to take part in the consultation to ensure the widest range of views are considered, to help us make sure the money makes a real, long term, sustainable difference to communities, over the 25 year lifetime of the project," add Ms Woodington.
The 160 turbines on the windfarm will be capable of generating 576MW of power, and the developers estimate that it will produce the energy equivalent to the annual needs of about 400,000 homes.
Off-shore construction is due to begin in the new year, with Gwynt y Môr operational in 2014.
It is then the company will begin releasing an estimated £768,000 every year to community projects across north Wales, for the next quarter of a century.
Further workshops:
Rhyl: Saturday, 17 December - White Rose Shopping Centre.
Llandudno: Tuesday, 20 December - library, Mostyn Street.
Colwyn Bay: Saturday, 7 January, 2012 - Bayview Shopping Centre.