Downturn stretches animal rescue centres in Wales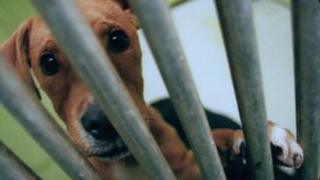 Animal welfare charities say they are being stretched to the limit with more owners forced to give up pets as they can no longer afford to keep them.
They blame the problem on the economic downturn and say they do not expect the situation to improve any time soon.
The charities say the situation is causing them financial difficulties with increasing food and medical bills.
The RSPCA said people were struggling financially with all manner of things, including looking after their animals.
In Caernarfon, Freshfield Animal Rescue Centre founder Lesley Tarleton described the amount of dogs needing rehoming as "horrendous", with pedigree breeds now commonplace.
And within a few days early this month she received calls to place four lamas, four sheep, a mule and a six month old colt as well as dogs.
"There is no doubt there has been an increase," she said.
"It is terribly distressing," she said.
Animals are being dumped outside Capricorn Animal Rescue in Padeswood, near Mold, Flintshire, where founder Shelia Stewart said she was at her "wits end" due to the volume of pets she is being forced to take in, including a call from police to attend to a goat left tied to a lamp-post.
Economic
"I can't see it getting any better in the next 12 months," she said.
She has seen a rise in the number of calls she receives from families facing eviction.
"They try to keep going as normal for as long as they can and then call us the day before they are evicted because they can't take animals into a hostel," she said.
Mrs Stewart gave one example of a man living in a car with his dog. The man was trying to find a home for his pet before he could move into temporary accommodation.
"It is distressing for the families and the children but people don't realise it is distressing for the animals which are withdrawn when they come to us," said Mrs Stewart.
And Caerphilly-based Hope Rescue trustee Paula Rowe said the charity has had to stop taking in "surrenders" - when people try to give up their animals - due to the numbers of animals they are already looking after, something they have never had to do previously.
She also said their medical bills so far this financial year match those spent for the whole of the previous year as they are taking in more and more pets with chronic health conditions.
They suspect the medical costs are the main reason people are being forced to give up the animals.
She said vets are also calling the charity to help rehouse animals after customers enquire about euthanizing their animal when treatment costs prove too much.
Among recent cases, Hope Rescue has taken in pedigree bull mastiff pups after the owner could not find any would-be owners.
"With the economic situation people aren't prepared to take on puppies because of the costs," she said.
The RSPCA in Wales said anecdotal evidence showed its centres were also more busy with animals "queuing" to be taken in as people were "feeling the pinch".
The charity said if pet owners were no longer able to look after a pet or need help with vet fees, they should seek advice from an animal welfare organisation.
"However, it is vitally important that those thinking of taking on a pet ensure that they are able to afford veterinary fees beforehand," said a spokesman.
"It is the legal responsibility of every owner to provide veterinary care for their animal."