Nicola Sedgebeer admits £69,000 Bridgend benefits fraud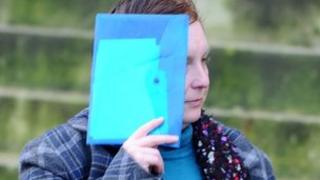 A 37-year-old Bridgend mother-of-four has been given a 10-month suspended jail term after admitting fraudulently claiming more than £69,000 in benefits.
From 2003 to 2011 Nicola Sedgebeer claimed income support, council tax and housing benefit as a single parent.
Her husband Christopher was living with the family most or all of the time.
At Cardiff Crown Court Recorder Timothy Petts said he accepted her remorse and previous good character and credited her for pleading guilty.
The court heard that Sedgebeer began claiming the benefits in October 2003, revising her claims in February 2004 to say she now had a fourth child.
Jo James, prosecuting, said financial records showed that her husband had been living with the family for most if not all of the time she was claiming the money.
Ms James said the Department of Work and Pensions alerted the local authority in November 2009 that they had information to show that Sedgebeer's husband had been living with her.
'Pretty sorry picture'
Interviewed twice in 2010, she insisted she was a lone parent and did not know where her husband was living, adding that she had no idea why he would be using her address for financial matters including his wage slips.
Meirion Davies, defending, said Sedgebeer was not a woman who was "living the high life" but one with health problems who was struggling to keep the family together in "financially straitened circumstances".
He said the pre-sentence report - including letters to the court written by her children aged 7, 10, 13 and 18 - painted a "pretty sorry picture".
Sedgebeer pleaded guilty to four charges of obtaining benefits through false representation.
Recorder Petts suspended the sentence for two years, telling Sedgebeer: "You will have to live with the shame of this conviction ... of a very serious offence."
Sedgebeer was also placed under the supervision of the probation service for 18 months.