Older people's commissioner: Care homes 'not just about cost'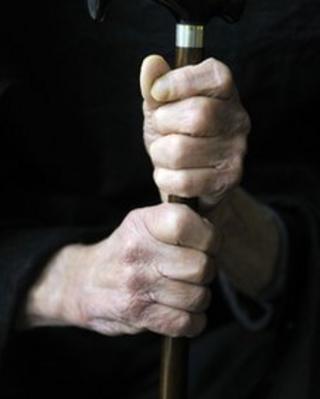 Decisions over the funding of care homes should rest on quality and not just cost, says the older people's commissioner for Wales.
It follows a judicial review on Friday, when Pembrokeshire County Council was ordered to reconsider how much it pays private care homes for each resident.
Seven care home companies in the county took legal action over the amount the authority was willing to pay.
The council said its position would ring alarm bells at other authorities.
The decision is likely to have a knock-on effect for councils elsewhere in Wales.
Older people's commissioner Ruth Marks said financial and emotional uncertainty had a huge impact on older people and their families and showed the current system was not fit for purpose.
"When I visit care homes across Wales, older people tell me they are worried about their future but they also want information and choice and control," she said.
"It's absolutely vital that older people's voices are heard in this debate, as well as all the others involved.
"The fundamental issue is how much do we as a society value older people and, at the moment, I think the answer is simply 'not enough'."
Legal action
After a court hearing last year, Pembrokeshire council offered to increase payments for each resident from £390 to £464 per week.
But care homes disputed the method used by the council to arrive at the figure and took further legal action.
Owners complained they were not receiving enough from the council for each resident and some faced going out of business.
Sitting at the High Court in Cardiff, Mr Justice Beatson ruled that the council did not follow the agreed funding model and that it did not give appropriate consideration to a number of factors while calculating the final figure.
Following last year's ruling the council warned the decision would cost it around £1.5m extra this year.
Mario Kreft, of Care Forum Wales, an association of independent care providers, said: "I'm afraid we have over 80 homes in Wales either in receivership or administration.
Budget cuts
"My intelligence through Care Forum Wales is that there are a number of people seriously on the brink of going into receivership. These are very difficult times."
Local government consultant Jeff Jones said local authorities were in a difficult position due to the large budget cuts they were facing.
"The problem you have got is that local government is the middle man in this. Local government commissions the services but it's between a rock and a hard place," he said.
"The rock basically, as we all know, is local government faces major financial challenges.
"Only this week I was reading that by 2020... it's expected that local government services in real terms will be back where they were in 2000."
'Alarm bells'
Pembrokeshire council said it was disappointed with the judgement but needed time to reflect upon the detail it contained.
"The position in which Pembrokeshire County Council finds itself will set alarm bells ringing throughout local government," the authority said.
"Across the whole of the UK, adult care is already a service in financial crisis.
"It must be borne in mind that among the 22 local authorities in Wales, Pembrokeshire County Council already pays one of the highest rates to care homes (£464 per resident, per week in 2010-2011, £469 in 2011-2012)."
There are around 30 private care homes used by the council in the county.