Mullany murders: Parents' relief as killers jailed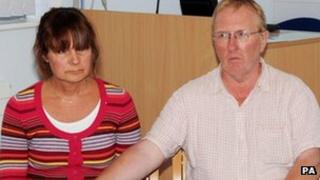 The parents of a 31-year-old Welshman murdered with his bride on honeymoon on Antigua have spoken of their relief after the killers were jailed for life.
Ben Mullany and his wife Catherine, from Pontardawe, Swansea Valley, were both shot in the head in July 2008.
Avie Howell and Kaniel Martin, who had also murdered a shopkeeper, were given three consecutive life sentences but escaped the death penalty.
Mr Mullany's parents said they would never get over their loss.
The honeymooning couple had been married for two weeks when Howell and Martin came into their hotel chalet armed with a pistol.
After being forced to kneel in front of the bed at gunpoint at the Cocos Hotel, they were shot in the back of the head before their belongings were stolen.
The court had heard that Mrs Mullany, 31, a doctor at Morriston Hospital in Swansea, died almost instantly.
'Extreme violence'
Mr Mullany, a student physiotherapist and former soldier and policeman, was flown home to Swansea but died a week after the shooting.
Howell and Martin went on to kill a shopkeeper in similar circumstances less than a fortnight later.
They were handed three life sentences at Antigua's High Court, in St John's, on Friday but avoided the death penalty.
Justice Richard Floyd said the "cold-hearted killers" had acted with "extreme violence" but the murders were not the "worst of the worst".
Mr Mullany's parents Marilyn and Ken said they were relieved the case was finally over.
Mrs Mullany said: "We were quite shocked to learn of the sentence, it totally came out of the blue.
"There had been a lot of delays in the case, and when the judge said earlier this month he was going to have to consider matters fully, we did not expect a sentence would be passed for some time.
"We are pleased and immensely relieved the case is now over.
'Not alone'
"All of us are ever so grateful to all the police in the UK and the Antiguan authorities for giving us justice for Ben and Cath. It was all we had left that we could do for them.
"The people of Antigua were so lovely to Ken and myself when we there - after the murders and during the trial itself.
"Everyone has supported us through this difficult time - from family and friends to total strangers - who have always made us feel that we were not alone in our grief.
"We all miss Ben and Cath so much."
The couple were buried in the grounds of St John the Evangelist Church, Cilybebyll, near Pontardawe - the church where they had married.
The month following the killings, Martin and Howell were charged with their murders and that of 43-year-old Jamaican shopkeeper Woneta Anderson.
Britain's Metropolitan Police helped Antiguan detectives with the investigation.
Det Supt Keith Niven, who led the Met team, said he believed Howell and Martin had set out to kill the couple.
Both men gave not guilty pleas but refused to give evidence in court.
They are now to stand trial for the murders of mechanic Tony Louisa, 43, a Syrian national and student Rafique Kareem Harris, 24.