Mullany murders: Detective tells of 'cold killers'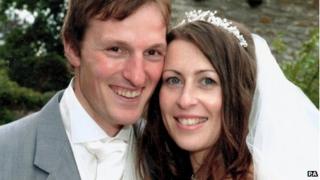 A detective who helped catch a Welsh honeymoon couple's killers in Antigua says the murderers were "incredibly arrogant, cold and calculating".
Det Supt Keith Niven says he is sure Kaniel Martin and Avie Howell would have killed again if they had not been caught on the Caribbean island in 2008.
He called the inquiry into the murder of Swansea Valley couple Ben and Catherine Mullany very challenging.
The killers also murdered a shopkeeper and received three life sentences.
Det Supt Niven, of London's Metropolitan Police, revealed details of the investigation after Martin, 23, and Howell, 20, were sentenced on Friday in Antigua's High Court for the 2008 killings.
He and four other UK police officers went to the island to investigate after Catherine Mullany, a doctor, and her husband, a student physiotherapist, were shot at their hotel chalet on the last day of their honeymoon, 27 July.
The couple, who were both 31, were shot in the head. Mrs Mullany was killed immediately and her husband died a week later after being flown home to south Wales.
Antigua Prime Minister Baldwin Spencer appealed for help from the UK, and the British team of officers - which also included Det Sgt Jack Pugh, Det Con Eddie Byrne, crime scene manager Alan Tribe and the then South Wales Police Det Insp Mike Cranswick - arrived a week after the shootings.
"I had worked in the Caribbean before in St Vincent, so I was familiar with the practices and lack of resources available," said Det Supt Niven.
"It was a very complex and challenging case. At the time, Antigua's police force did not have a fingerprint database and did not have the same forensic expertise that was available in the UK.
"The heat was also a major factor, because it meant that DNA can degrade very quickly.
"But we were determined to bring Ben and Cath's killers to justice. The pain and horror that their families went through was the main motivation in ensuring we were successful."
Det Supt Niven said the "excessive violence" and the fact that the killers stole only a small amount of cash, cheap digital camera and mobile phones convinced him that their main motive was murder.
'Gangster lifestyle'
The officers found that Mr Mullany's phone had been used shortly after the killing, when Martin put his own sim card into it.
But police then had the tricky task of tracing Martin, which involved a lot of door-to-door inquiries by Antiguan officers in areas which had no street names.
On 12 August, Martin and Howell killed again, shooting shopkeeper Woneta Anderson, 43, in the head at The Morning Glory Sunshine Shop.
They stole some top-up phone cards and left clues in a blood-stained footprint and a bandana.
The following day Howell was arrested, and the day after that Martin was picked up at Howell's home.
"Their interviews were littered with a tissue of lies from the outset," said Det Supt Niven.
"They seemed to take a real dislike to us. On one occasion Kaniel Martin went to the toilet and saw a locked cabinet with guns and we overheard him say that he was tempted to break into it and 'spray them with bullets especially (Det Sgt) Jack'."
Martin and Howell both denied murder, but would not give evidence in court.
Mr Niven said: "They were incredibly arrogant, cold and calculating.
"They showed no respect for anyone - let alone Ben and Cath's parents who attended the trial.
"The pair of them were low achievers. They appeared to be wrapped up in living a gangster lifestyle and thought their exploits would earn them respect as well as impressing girls.
"I've no doubt that had they not been caught they would have killed more people."
Martin and Howell are expected to stand trial next year for two other murders.
'Frustrating at times'
The Met detective praised Antiguan police, who were criticised by some after the Mullanys' killings.
"Yes it's true that the investigation was frustrating at some times, because of the distance involved," he said.
"But the Antiguan police put in a lot of hard work and were dealing with a crime that would have been very difficult even by UK standards.
"As I said, they had a lack of resources at the time and there was also a great deal of shock at the killings because tourists were involved.
"But things have changed a great deal over the past few years. They now have a hi-tech forensic unit as well as a national fingerprint database.
"While I was out in Antigua for Martin and Howell's trial, three murders took place - but two of them had been solved by the time we had left.
"They also have a new commissioner in place, who has previously worked in the British Virgin Islands and is very clued up with forensics and UK policing standards."
Det Supt Niven said Mr and Mrs Mullany's parents had "been through so much", adding: "I am pleased that justice has been served and no-one else will suffer at the hands of these two men".