War artist Dan Peterson aims for Afghanistan return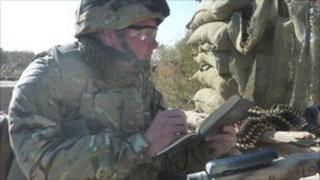 A war artist from Cardiff who witnessed a firefight with insurgents during his work in Afghanistan says he would like to return.
Dan Peterson, 43, headed home in time for Christmas having spent almost a month embedded with the 1st The Queen's Dragoon Guards.
He was taken out on patrols and saw live operations in Helmand Province.
Mr Peterson, who is producing sketches, prints and paintings of his visit, said he never felt in any serious danger.
"I got to do a lot more than I ever thought I would. They took it very seriously and were keen to make sure I have seen everything," he said.
"I was taken on vehicle patrols in armoured vehicles, foot patrols with the Afghan national army and operations into the Green Zone.
"One of the lads here said I must be mad going out with no weapons but I felt safe. The guys were there."
Stress levels
Mr Peterson, a graphic designer who has also spent many years in the Territorial Army, said he had trained properly for the experience.
But he admitted his stress levels were "heightened" by some of the events he witnessed.
"We did get into contact and a number of insurgents were killed," he said.
His chance to become a war artist came about through an illustration degree he is studying for at Cardiff School of Art and Design.
"I'm doing my dissertation on war art and perception. I found out all about war art, its beginnings, how it was used during the Second World War," he said.
"Then I found out there were war artists and the course took me to speak to a war artist in London, Matthew Cook.
"I made a few calls to people I knew in the army and here I am."
Rewarding experience
He said it had taken about 18 months from realising war artists were still active to actually becoming one himself sponsored by the 1st The Queen's Dragoon Guards, also known as The Welsh Cavalry.
There have been four war artists out in Afghanistan and Mr Peterson said it had been a rewarding experience.
"I stayed a bit longer because of what I was trying to do with The Queen's Dragoon Guards - I'm doing a visual diary for them," he said.
"It's a book that will contain words and the sketches I've already produced and those I will produce when I get home.
"I've also taken lots of photographs. The idea is to work live, but having been here, I can use those photos and my memories to produce other work when I return."
Paintings and prints
He estimated he had already done a "sketchbook full" of drawings and planned to do as many more again.
He will also produce paintings and prints, many of which will be given to the regiment, and there are plans for exhibitions.
And while the married father-of-four is delighted to be home for Christmas, he said he would like to continue his war artist role in the future.
"The most experienced war artists I have met have been out four or five times," he said.
"I would like to do it again."