MP Ian Lucas welcomes High Court's solar subsidy ruling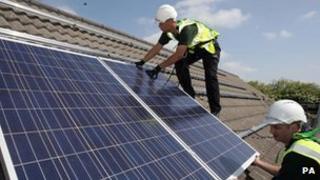 Wrexham MP Ian Lucas has welcomed the High Court's ruling that UK government plans to cut subsidies for solar panels are legally flawed.
The government had said that subsidies for households that installed solar panels would be halved.
Environmental charity Friends of the Earth and two solar companies went to court to test the proposals' legality.
Mr Lucas, whose constituency includes solar panel producer Sharp, said the UK government must reconsider.
Under the feed-in tariffs programme, people in Britain with solar panels are paid for the electricity they generate.
The new tariff of 21p per kilowatt-hour, down from the current 43p, had been expected to come into effect from 1 April, but in October the UK government said it would be paid to anyone who installed their solar panels after 12 December.
The tariff for surplus electricity exported to the national grid will remain at 3.1p per kilowatt-hour.
The UK government had said the subsidy cut would ensure the scheme carried on in the future.
Friends of the Earth (FoE) and solar companies Solarcentury and HomeSun argued that that cut-off point - which came two weeks before the Department of Energy and Climate Change (DECC) consultation on changes to the scheme was due to end - was unlawful.
The UK government has said it would defend a challenge at judicial review.
Ian Lucas said: "Today's judgement confirms the plans are not only flawed in what they hope to achieve, but also flawed legally.
"It will also be interesting to see what impact this judgement may have upon Wrexham council's plans for solar installations on their properties.
"The government must reconsider."
The public consultation on plans to slash the subsidy will remain open for comment until 23 December.