Solar panel subsidy cut a 'knee-jerk' move says industry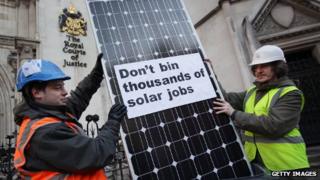 Welsh MPs and parts of the solar panel industry have welcomed a High Court ruling on subsidies for households.
The UK government plans to halve a tariff paid to homes for electricity generated using the panels.
But judges ruled on Wednesday that a decision to bring that move forward to December was legally flawed.
Broderick Frye from Carmarthenshire installation firm Ecozero said UK ministers had made a "knee-jerk" decision affecting the industry.
He said his Ammanford company had originally planned for changes to the so-called feed-in tariff to be introduced in April.
But the decision to bring the cuts in during December led to a stampede for installers.
"It was rather like a 'Klondike' effect - everyone was clamouring to get on to the bandwagon prior to that 12 December deadline," said Mr Frye.
However, Dwyfor Meirionnydd MP Elfyn Llwyd said the pre-Christmas boom for installers is now mirrored by empty order books in the new year.
"From January on, they have absolutely nothing. Some of the firms are facing up to a 60 or 70% reduction in their workforce," said the Plaid Cymru MP.
"To rush it through was entirely wrong, as the high court has now confirmed."
Tariffs halved
Under the feed-in tariffs programme, people in Britain with solar panels are paid for the electricity they generate.
The new tariff of 21p per kilowatt-hour, down from the current 43p, had been expected to come into effect from 1 April, but in October the UK government said it would be paid to anyone who installed their solar panels after 12 December.
The tariff for surplus electricity exported to the national grid will remain at 3.1p per kilowatt-hour.
The UK government had said the subsidy cut would ensure the scheme carried on in the future.
The decision was made while a consultation process on tariff changes was still underway, which the High Court concluded was legally flawed.
The UK government has said it would defend a challenge at judicial review. A Decc spokesman said it believed the changes were needed and that solar projects would still be an attractive investment.
The Wrexham MP Ian Lucas has also welcomed the legal ruling.
The Labour MP, whose constituency includes solar panel maker Sharp, added: "It will also be interesting to see what impact this judgement may have upon Wrexham council's plans for solar installations on their properties.
"The government must reconsider."