Rare turtles washed up in Ceredigion and Scotland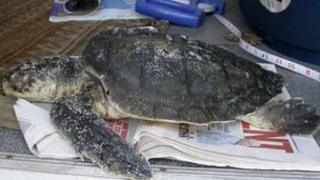 A marine charity is urging walkers to be on the lookout for stranded turtles as rare species have been washed up dead on beaches in Scotland and Wales.
Endangered Kemp's ridley sea turtles were ­­­found at Baugh on the Isle of Tiree and at Llanon in Ceredigion.
They are a warm water species usually seen in the Gulf of Mexico.
This month a dead green turtle - only the 10th on record in the UK - was also found at Newark Bay, on South Ronaldsay in the Orkneys.
The Marine Conservation Society (MCS) is urging beach walkers to keep a look out for stranded turtles over the Christmas holidays.
Dr Peter Richardson of the MCS said it was important people contacted them whether they were dead or alive.
"Dead turtles can be collected for important post-mortem examination, while live turtles can be rescued from a chilly death as long as they are not thrown back in the sea," he said.
The turtle found at Tiree in early December after heavy storms was only the 36th Kemp's ridley recorded in the UK.
Just a few days later the other was washed in west Wales.
Dr Richardson said the recent turtle strandings suggest there may be more turtles out there that could wash up on UK beaches.
"Our advice is that under no circumstances should stranded turtles be thrown back in the sea.
"While they may appear to be dead, they may in fact be comatose due to the cold conditions, and can be nursed back to health if immediately rescued and given expert care.
"If they are dead, it is important that they are collected and stored for post-mortem examination."
MCS has a produced a UK Turtle Code which is available on its website.