Newport's historic Kings Hotel shuts after 200 years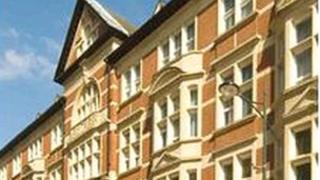 A 200-year-old hotel in the centre of Newport has closed blaming a "severe" downturn in trade.
The Kings Hotel ceased trading on Tuesday with the loss of 20 permanent jobs.
General manager Maria Thomas said a handful of staff remained and were trying to rearrange wedding bookings.
The hotel had also been a popular music venue and hosted concerts by the singer Van Morrison in its ballroom in the late 1980s and early 1990s.
Other performers included Jerry Lee Lewis.
Ms Thomas, who has worked at the hotel for 20 years, said the recession had led to a downturn in trade at the hotel on High Street.
"I think all the shops closing in Newport city centre haven't helped either," she said.
"If you look at the websites our hotel is featured on, reviews say that people like the hotel but not the area it's in."
She said staff were trying to rearrange bookings, especially those for weddings.
"Local hotels are helping us but the people we are calling about weddings are obviously upset," she said.
"We're just trying our best to find them somewhere.
'Lot of history'
"It's very sad as the hotel has been around for 200 years. There's a lot of history here and a lot of local families have had events here for a long time."
The hotel, once called the King's Head, started off as a small coaching inn and over the years became popular for weddings and conferences.
The three-star hotel closed its doors on Tuesday and its windows were boarded up on Wednesday.
Its 20 permanent staff are facing redundancy and will attend a meeting to find out their fate next week.
The hotel's freeholder, Punch Taverns, did not want to comment.