L/Sgt Dan Collins death: Trauma awareness pledge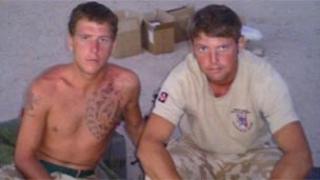 Cross-party politicians have vowed to raise awareness of post traumatic stress disorder (PTSD) after a Welsh Guardsman was found hanged.
L/Sgt Dan Collins, 29, who had been shot twice and lost two close friends in Afghanistan, was found dead on New Year's Day in a Pembrokeshire quarry.
Labour MP Paul Flynn said he had spoken to an ex-soldier who knew of six others who had taken their own lives.
He and Conservative AM Darren Millar want to improve the help available.
Newport West MP Mr Flynn said the case of L/Sgt Collins had made a "big impression" on him and he would be highlighting the issue of support for soldiers suffering from PTSD in parliament.
"The main help we should give is to make sure people are not exposed to unnecessary wars and make sure we have got the best available treatment," he said.
Referring to the "haunting" case of L/Sgt Collins, he said: "The story was so vivid. One can see it as one of the most dreadful nightmares anyone can suffer.
Bomb blasts
"You can imagine someone waking up and screaming in the night.
"It's a vivid example of these traumas. This is an extreme example but there are many others I'm sure."
L/Sgt Collins, from Tiers Cross, near Haverfordwest, had served in Helmand Province in Afghanistan where he had lost two of his best friends.
He had also narrowly escaped death, being shot twice and being involved in two bomb blasts.
On one occasion he was shot by a Taliban sniper while on foot patrol with the Welsh Guards.
His girlfriend Vicky Roach said he had faced a constant struggle over the past couple of years and had tried to take his own life on previous occasions.
He had received support and counselling through the military as a serving soldier but was said to be deeply troubled by his experiences in Afghanistan.
Ms Roach called for more help for charities supporting soldiers, such as Bridgend-based Healing the Wounds, which aims to help Welsh soldiers suffering from mental issues like PTSD.
Kevin Richards, co-founder of Healing the Wounds and a former Army medic, said he set up his charity nearly three years ago because he noticed more soldiers and veterans showing symptoms of PTSD with few places to go for help.
"What I witnessed in Northern Ireland was awful but it was sporadic and not every day," he said.
"Whereas the soldiers in Iraq and Afghanistan are dealing with horrors every day. It's relentless. Every day could be their last. So I think we're sitting on a ticking time bomb.
"I think we'll see a lot more soldiers with PTSD in the future and we need to have systems and support in place.
Waiting list
"Unfortunately there's still a stigma attached to it in the Army. If you say you have PTSD you are taken off the battlefield and soldiers don't want that - they don't want to show weakness. They may also miss out on promotion or even get discharged from the forces. That's the problem."
Mr Richards said for those who did seek help, support groups were often oversubscribed.
"We currently have 30 people on our waiting list for counselling," he said.
"One man who came to us was diagnosed in October by [the charity] Combat Stress but they couldn't fit him in for counselling until April. So he is having to cope alone for seven months.
"We rely on donations to keep going so we can only do so much."
Other PTSD cases that have come to light include former soldier Samantha Bowen, who was left with a paralysed leg and nearly bled to death after being hit by shrapnel in Iraq.
The 25-year-old from Mountain Ash in Rhondda Cynon Taf said her real battle was dealing with her psychological problems, particularly PTSD.
Welsh Conservative health spokesperson Darren Millar says he has written to the health minister to ask for an update regarding the treatment of PTSD for former service personnel.
The assembly health committee published a report last February calling for better co-ordination between military and health records.
War zones
Mr Millar said: "We found evidence that traditional treatments were the ones that tended to be available and they weren't specific to veterans.
"The services that were available in Wales tended to be available through the general mental health services but, of course, veteran-specific services for those who've been to war zones and other areas of conflict can be quite specialised.
"There were a number of emerging therapies that were available from new charities who wanted to provide these services in Wales but weren't currently commissioned or supported to do so."
The Welsh government said it was working with UK government departments to improve health services for serving personnel and veterans.
"The partnership board is actively working to ensure efficient transfer of personal records from the military to GPs upon cessation of an individual's military service, and on more general awareness raising of veterans and service-related issues among GPs," said a spokesman.
"All veterans have a right to priority treatment for service-related conditions according to clinical need, and this would apply in mental health services as in the rest of the NHS."