Welsh Language Society 'radical' change in 50th year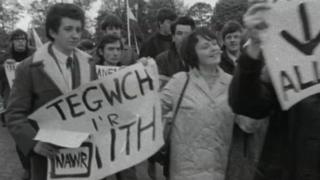 The chair of the Welsh Language Society - Cymdeithas yr Iaith Gymraeg - has said the group will have to change "radically" in its 50th year.
Bethan Williams said protecting Welsh-speaking communities should be the focus of future campaigning.
Until now, its aim had been to securing equal status for the Welsh language, alongside English.
Ms Williams says: "We cannot afford for the future of the language on a community level to disappear."
This year marks the 50th anniversary of a radio lecture by playwright, poet and Plaid Cymru co-founder Saunders Lewis which led to the setting up of Cymdeithas yr Iaith Gymraeg (Welsh Language Society).
The society's long campaign for equal status for the language led to the introduction of the 1993 Welsh Language Act, followed by fresh legislation in 2010 and the appointment of a commissioner to enforce it.
But barely a week into its anniversary year, the continued existence of the group has already come under criticism in online articles, and questions have been raised about its ability to survive as a pressure group of any influence.
'Living language'
Ms Williams is to address the society's members on Saturday in a newly created forum, the cyngor [council].
She is to say the organisation should focus future efforts on keeping the language alive in Welsh-speaking communities, and that it should not be afraid to challenge its own status quo.
She is to say: "Some people say that the struggle for the Welsh language is over, but we don't want to see it just as a marginal language, or as a language of education only.
"Now, as we step forward to the next period in our campaigning we are turning our sights to our communities, and ensuring that Welsh is a living language, used day-to-day."
In 1962 Saunders Lewis gave a lecture on BBC radio entitled Tynged Yr Iaith (The Fate of the Language).
In this speech Lewis predicted the extinction of the Welsh language and declared that the language would die unless revolutionary methods were used to defend it.
The lecture led to the foundation of Cymdeithas yr Iaith Gymraeg (the Welsh Language Society).