Dafydd Elis Thomas nominated for Plaid Cymru leadership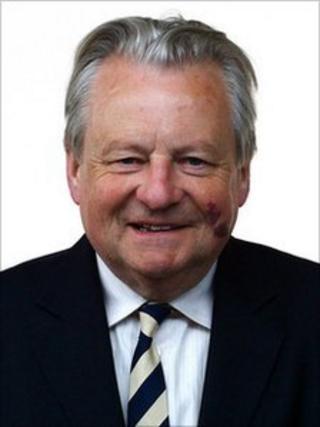 Former Plaid Cymru leader Lord Elis Thomas has been nominated by his local party in Dwyfor Meirionnydd to run again for the top job.
The peer is hoping to succeed Ieuan Wyn Jones who announced his intention to stand down after last May's disappointing assembly election result.
Three other assembly members - Elin Jones, Simon Thomas and Leanne Wood - are also standing.
The winner, elected by the alternative vote system, will be named in March.
Mr Jones has led the party since 2000.
Lord Elis Thomas spent 12 years as presiding officer of the Welsh assembly, but stood down after the election last May.
He was previously party leader between 1984 and 1991 and has been Dwyfor Meirionnydd AM since 1999, previously serving as an MP since 1974.
The peer decided not comment formally about his leadership bid until he had been nominated by his party locally.
After his nomination, Lord Elis Thomas's constituency party chair, Lis Puw, said: "We invite Plaid members all over Wales to use their alternative vote to the full in this leadership election, in support of our AM for Dwyfor Meirionnydd.
"He had the full support of our constituency party when he agreed last May for his name to go forward and now he has been formally nominated, our campaign will officially begin.
"He has already named the coming general election to Welsh city, county and community councils as his priority for 2012 and we are confident that Plaid can be a real force to strengthen Welsh democracy with his leadership."
Ms Puw said the peer had already proved his ability to serve Wales as the assembly's presiding officer.
The former agriculture minister, Ceredigion AM Elin Jones, says her focus is on opening the Plaid Cymru doors to every person in Wales.
Among backers for her campaign are fellow AMs Llyr Huws Gruffydd and Jocelyn Davies.
Mid and West Wales AM Simon Thomas is a former member of parliament and worked as a Plaid advisor in the One Wales government.
Independence issue
Mr Thomas says he would develop a consensual style of leadership which would bring in all levels of the party.
South Wales Central AM Leanne Wood was elected in 2003. She argues that independence should now be part of the mainstream political debate.
On Tuesday, Ms Wood received the backing of fellow Plaid AMs Bethan Jenkins and Lindsay Whittle, as well as MP Jonathan Edwards.
The election is open to party members and new members will also have a vote if they join before the close of nominations on 26 January.
The new leader will be announced at special event in Cardiff on 15 March.