Mild winter sees wild flowers in bloom, says Cardiff survey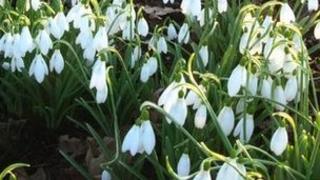 The mild weather so far this winter is having an impact on wild flowers, with many already in bloom, a survey in Cardiff has found.
National Museum Wales discovered 63 species had flowered, an increase on the normal 20 to 30.
Dr Tim Rich, head of vascular plants, said: "Autumn frosts have not been severe enough to knock the plants back for the winter."
Gardener and broadcaster Terry Walton said vegetables were ahead of schedule.
A wild flower hunt around Cardiff by Dr Rich with Dr Sarah Whild of Birmingham University showed how warm the winter has been so far.
Dr Rich said: "Only winter heliotrope is supposed to be flowering at new year, but three spring-flowering species - hazel, primrose and lesser celandine - were flowering very early."
The survey found that the mild winter has allowed many garden flowers to bloom early too, with Camellia, Forsythia and Laurustinus flowering already.
Rhondda Valley gardener Terry Walton, a regular contributor to BBC Radio 2's Jeremy Vine show, said vegetables, such as garlic, winter onions and spring cabbage, were also well ahead of schedule.
He said: "Everything is confused. We really haven't had a winter.
"It was a poor cool summer and it's just continued right through. Now it's gone into early winter and the temperatures are not changing.
'Bursting into bloom'
"The ground temperature is still extremely warm ... (plants) like plenty of rain which has been almost non-stop. They think: 'Winter's over, let's start to flower.'"
He said dandelions, daffodils and snowdrops had been early this year.
"The snowdrops were out before Christmas, which is absolutely crazy, so there's lots of stuff which is bursting into bloom well ahead of schedule," he added.
But Mr Walton warned that winter was not over and there was still the possibility of some frost, but as the days became longer and the nights shorter it was unlikely to have much of an impact.