£30m Welsh government cash pot to boost job skills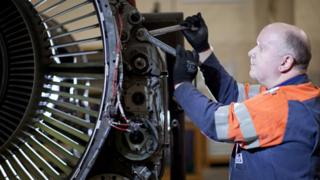 The First Minister has repeatedly said his top priority for the economy is improving skills and has now official launched one of the main ways he plans to do just that.
It is called Skills Growth Wales and it is a £30m pot of money available to companies until 2015.
Just over half the money comes from EU funds and most of it is expected to help manufacturing.
The launch took place on the factory floor of TES Aviation in Bridgend, a firm which has benefited from more than £200,000 to improve the skills of its staff.
Training grants are not new but they have never been considered as important as they are now, and huge amounts of public money is being used.
If you include EU funding, a staggering £425m is being spent on workplace training in Wales until 2014. The schemes cover everything from support for apprentices, to teaching management and leadership skills.
New skills
So how effective is this spending, which has become a central part of the Welsh government's response to the economic downturn?
It is hard to argue against the value of gaining new skills but the difficulty is measuring their direct benefits.
As both TES Aviation and Jeff Cuthbert admitted, the benefits may not be seen for a number of years. There is also the possibility that a successful company like TES Aviation might have paid for some of the training itself without the need of support from public money.
In response, the Welsh government insists the money is not paid out "willy nilly" and only on condition of future jobs' growth.
And many people would also argue that investing in people's skills is a better investment than in bricks and mortar because those skills follow that person wherever they work, even if they go elsewhere in Wales.
Crucial to all of this, is whether you think there is a skills gap. The manufacturing organisation EEF Wales estimates that there are around 3,000 opportunities in Welsh manufacturing because of a shortage of skills.
That may seem hard to believe but I recently met an engineering boss close to the Port Talbot steel works who told me there was a major shortage of skilled welders in the area.
There are other ways the Welsh government is trying to help the economy but a huge emphasis - both politically and financially - is being put on training schemes in factories and offices across the country.
The hope is that it is not just the training industry which benefits from the many courses being offered to upskill the Welsh workforce.