Celebrity Big Brother: Ex-Wales rugby star Gareth 'Alfie' Thomas is favourite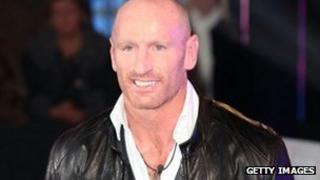 Gareth Thomas has emerged as the bookies' favourite to win the reality TV show Celebrity Big Brother.
The former Wales rugby captain, nicknamed Alfie, is one of nine remaining contenders for the CBB title.
He has generated a big following on Twitter, with the hashtag #TeamAlfie created for his supporters.
Stonewall Cymru called Thomas - one of the few professional sportsman to have come out as gay - an excellent role model.
The 36-year-old sportsman had over 1,500 followers on a recently created Team Alfie Twitter account by Wednesday.
He has around 50,000 followers on his personal account, @gareththomas14, which is admittedly dwarfed by the numbers following fellow contestant Frankie Cocozza at over 500,000.
However, Twitter subscribers are clearly not the only factor in this contest, with bookmakers currently giving Thomas odds of around 3-1 to win the contest.
Ex-Eastenders actress Natalie Cassidy, X-Factor finalist Cocozza and Hollywood actor Michael Madsen are his nearest challengers.
He has also become popular with his fellow celebrities in the house and was the only one spared when they decided who they would like to see face the public vote to leave on Friday night.
Some of the Twitter comments praise Thomas' general joie de vivre, while some focus rather more on his physical attributes.
@GemNadalVM commented: "Awww how lovely is @gareththomas14 for helping Denise Welsh in the bath. Love him."
@RevRobinFox added: "A big mug of coffee and the gorgeous @gareththomas14 @TeamAlfieCBB on CBB12 - what more could a guy ask for?"
Challenging stereotypes
Thomas came out as gay in 2009, becoming one of a just a handful of professional sportspeople to do so.
Andrew White, the director of Stonewall Cymru, met Thomas at a reception the following year where Thomas was named a Stonewall Hero of the Year.
Mr White said of Thomas's stay in the Big Brother house: "I think it's really positive to have gay role models in a variety of programmes and situations.
"For too long we were invisible.
"I think Gareth is an excellent role model. He challenges a lot of stereotypes. He's a kind, fun, gentle man who also happens to be gay."
What if Thomas were to win the show? Mr White said: "From everything I've seen, read and watched of Gareth Thomas, I don't think it will change him a bit.
"He seems like he's having an absolute ball in there. He's just embracing everything and seems to be bringing people together."