Tourists enjoy Wales' friendliness, report suggests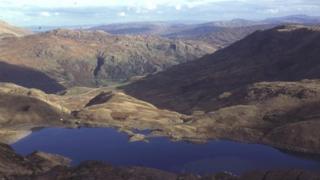 The latest tourism survey by Visit Wales suggests friendliness of the Welsh people continues to rank highly among visitors.
The Welsh government's 2011 Wales Visitor Survey shows the natural environment and friendliness were judged Wales' best features.
About 92% of day visitors to Wales, and those staying in the UK, said they would recommend a trip to Wales.
The survey is carried out every two years between April and September.
It collects information from UK-staying visitors, day visitors and overseas visitors.
The survey shows that among UK-staying visitors, satisfaction with the natural environment was 9.33 out of a possible 10, 9.22 among overseas visitors and 8.76 from UK day visitors.
Overseas visitors judged friendliness of the people in Wales as their highest-rated aspect (9.32, compared with 9.10 in 2009).
For UK-staying visitors, friendliness was rated 9.17, compared with 8.86 in 2009.
Overall satisfaction with Wales as a place to visit remains high, with day visitors ranking it 9.15 out of 10, UK-staying visitors judging it 9.05 and overseas visitors scoring Wales 8.97.
Asked if they would recommend Wales as a destination, 92% of Uk-staying and day visitors said they definitely would.
Just 79% of overseas visitors said they would definitely recommend it.
Business Minister, Edwina Hart, said: "These results provide very positive feedback from visitors and provides evidence that there is a high level of satisfaction in respect of most aspects of the visit among current visitors.
"Having just launched our new marketing campaign it's good to see that the holiday product we have to offer here in Wales lives up to the promise."