Ffynone House School Swansea future under threat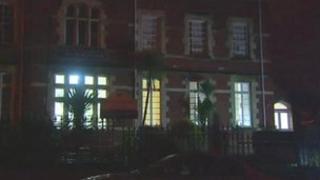 The head teacher of a private school in Swansea has confirmed that it is under threat of closure.
Cognita Schools, which owns Ffynone House School in St James's Crescent in Uplands, is beginning a 30-day consultation over its future.
Ffynone House is an independent school for children between the ages of 11 and 18, with 125 pupils on the school roll.
Head teacher Nicola Walker said Cognita had warned them that there was a question over its financial viability.
'Economy'
Cognita operates 54 private schools in the UK and overseas.
The firm has written to parents to inform them about the consultation over the school's future. The staff were informed on Tuesday.
Mrs Walker said the school timetable will continue while the consultation is held.
She said: "The economy is affecting everybody.
"School carries on as normal. The pupils are wearing their uniforms with pride. We are are rallying together."
On its website, Ffynone House is described as a "forward thinking school with traditional values".
It says "We pride ourselves on excellent examination success, within a caring and supportive community".
Preparatory school
Cognita Schools was set up in 2004 by a private equity firm and Sir Chris Woodhead, the former Chief Inspector of Schools in England.
Sir Christopher is the current Chairman of Cognita.
The company bought Ffynone House in June 2004 along with Oakleigh House preparatory [independent primary] school, also in Swansea.
The two schools were previously owned by the Ffynone House Trust.