AGI Shorewood in Ebbw Vale confirms closure threat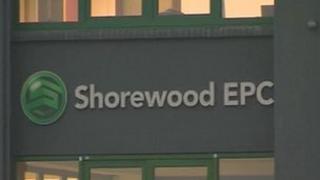 A packaging company has confirmed plans to close its factory in Ebbw Vale, putting around 60 jobs under threat.
A consultation is underway at AGI Shorewood, which makes packing for the CD and DVD market.
If the plant on the Rassau industrial estate closes, all work will transfer to the company's other factories in Slough and Swindon.
AGI Shorewood blamed a downturn in the media packaging industry for the move.
The possible closure was announced on Wednesday and the consultation process is expected to end on 21 February.
A spokesperson said shutting down the factory would optimise the operations and resources of the business.
"The decision to consider the closure of the print facility in south Wales arises as a result of the softness in the media packaging industry causing the business to be loss-making," they said.
Merger
"The employees at this facility are being fully consulted about this proposal and discussions will take place with everybody over the coming weeks.
"The company will provide help and assistance to everyone affected."
The Ebbw Vale concern, which makes packaging for CDs, DVDs and computer games, was part of a merger last year.
Only three weeks ago, the company said all Shorewood Packaging locations would fall under a new combined unit called AGI Shorewood.
AGI Shorewood employs nearly 4,000 people worldwide and operates 24 manufacturing facilities in north America, Europe, Asia and Latin America.
It also has five plastic injection moulding operations in the United States, UK, Germany and Poland.