Nikitta Grender murder: Carl Whant was fit and sober, says grandmother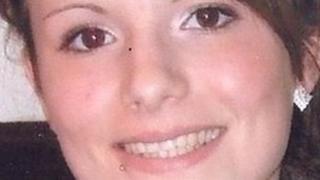 The grandmother of a man charged with murdering a pregnant teenager saw him looking fit, well and sober just before the victim was found, a court was told.
Sandra Doreen Mole said Carl Whant came looking for cigarettes on the morning of 5 February 2011.
Nikitta Grender, 19, died two weeks before she was due to give birth to a girl she had already called Kelsey-May.
At Newport Crown Court, Mr Whant denies murder, rape, arson and child destruction. The trial continues.
The court heard that Ms Mole was asleep at her home in St John's Court, Oakfield Road, in Newport, when Whant arrived between 07:45 and 08:15 GMT.
She said she was woken by him knocking on the door.
The court heard he would often call round and ask for cigarettes.
Ms Mole said the defendant was wearing black shoes, trousers and an overcoat and said: "Hi Nan, can I have some fags?"
'Blurry'
She said she told him there were some in the kitchen, he helped himself to six cigarettes from a packet and then left. Ms Mole said her grandson was in the house for a matter of seconds.
She said her eyesight was poor, she was not wearing her glasses and everything was "blurry". But she said he "looked fit, well and sober''.
Ms Grender's body was found by firefighters in the flat at Broadmead Park, in Lliswerry, at around 08:00 GMT on 5 February 2011.
A post-mortem examination later revealed she had been stabbed twice, once in the neck and once in the stomach, before her flat was set on fire.
The jury also heard from a police officer who told the court he did not wear protective gloves while trying to move the suspect's car.
On 7 February, Det Con Brian James arrived at Mr Whant's home in Bettws, in Newport, between 12.55 and 01:10 GMT and bagged his black jacket, black trousers and keys to his Ford Focus.
These items were put in to brown evidence bags which were not sealed until the officer got back to the station at Ystrad Mynach because he did not have adhesive tape.
At 02:00 GMT a recovery vehicle arrived to tow the car away. But, the court heard, the car was parked too closely to other vehicles so Det Con James got in to the car and moved it back and forth so it could be taken away.
Blood
He touched the steering wheel, gear stick and brake with his bare hands.
Scenes of crime officer Anthony Hodgetts examined the car and said he took a sample of what was "obviously blood" from the footwell.
The court also heard from the first officer to arrive at the murder scene, Det Con Colin Parker.
During cross-examination, he was asked whether he took a picture of a tealight candle on Ms Grender's bedside cabinet, or whether there was a lighter in one of the pictures he took.
DC Parker said he had taken a number of pictures and could not be sure.
He said if he thought anything was of interest then he would have zoomed in and taken its picture.
DC Parker also gathered fibres by from the kitchen, toilet and bedroom doors.