Met Office warning of snow across parts of Wales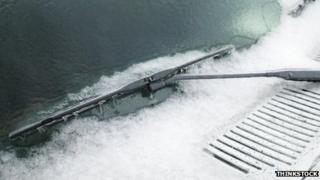 Snow could cause problems on roads in Wales overnight and into Monday, motorists have been warned.
The Met Office has issued warnings for much of Wales, with south Wales expected to be worst affected.
Rain pushing in from the west is expected to turn to snow on Sunday, with the potential for 10cm (4in), especially on high ground.
There were reports of sleet falling on Sunday in areas around the A465 heads of the valleys road in south Wales.
Snow is also possible at lower levels, and the public is advised to take extra care.
An amber "be prepared" snow warning is in place in parts of south Wales until 12:00 GMT on Monday.
Amber warning
The Met Office has issued a lesser "be aware" warning for much of the rest of Wales, apart from the very north of Wales.
The Met Office said: "Rain pushing in from the west is expected turn to snow on the leading edge, especially on hills.
"As much as 10cm may accumulate across hilly parts of south and south-east Wales, this area covered by the amber warning, the main focus being through [Sunday].
"The public are advised to be aware of the potential for disruption to traffic, particularly this evening within the amber area.
"There remains uncertainty in the amounts of snow, and also the eastern extent of any snow, so please check for further updates."
BBC Wales weather forecaster Derek Brockway has also warned of snow, and said this week was "going to be the coldest of the winter so far".
Mobilised gritters
He added: "So a mix of rain and snow in the next 24 hours. Whether you get snow will depend on where you live."
He said most of it would be on higher ground in the south and west.
Blaenau Gwent council said it had mobilised gritters from Sunday morning in preparation for snow.
The council is urging motorists to take care when travelling and to be aware that heavy snow could make journeys difficult on Sunday and Monday.