Potential of ports and airports to be examined by Welsh assembly inquiry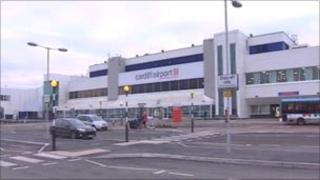 Ways to improve the contribution of Welsh ports and airports to the economy are being examined as part of an inquiry by Assembly Members.
The enterprise and business committee will also look at how the Welsh government can help develop their potential.
Cardiff airport saw 10% fewer passengers in 2010.
Ports and airports policy falls under the UK government, but Wales has powers for transport links and financial help.
The inquiry will look at the importance of major Welsh ports and airports to the economy of their own regions and to Wales as a whole.
Committee chair Nick Ramsay said Wales had been trying to raise its profile on the world stage by establishing its identity as a devolved nation to boost international trade and tourism links.
Decline in business
"If Wales is unable to connect with the world through its ports and airports it makes our ambitions much more difficult to realise," he said.
"This inquiry intends to answer the key questions surrounding the future and potential of our ports and airports: what is the Welsh government doing to support them and to what extent do Welsh ministers work with their counterparts in the UK government to support their development?"
AMs will look at the factors that have contributed to the decline in business through Cardiff Airport.
The airport has lost more passengers over the past three years than any of the other major regional airports in the UK.
However, it was boosted earlier this month by low-cost airline Vueling's decision to expand its flights from the airport to Spain.
The infrastructure around Welsh ports and airports will also be considered.