Heartbreaking goodbyes from soldiers on the front line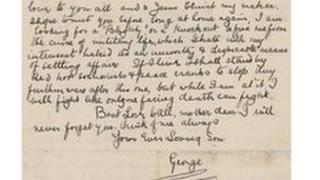 Some sleep with the heartbreaking goodbye letter under their pillow, while others put them away in a box kept in the attic.
Whether they are read every day or go untouched for years, knowing the final farewell is always there is enough.
Soldiers have penned goodbye letters from the front line for centuries and the comfort they offer grieving families, says historian Sian Price, is impossible to put in to words.
The 35-year-old from Cardiff wanted to tell the soldiers' tales after researching the subject for a BBC Radio 4 programme.
"It's almost impossible to put in to words the comfort those letters give the families I met," she said.
"It's a physical piece of paper that they can touch, like they're touching they're touching their loved one, something that they wrote and wrote on."
Even if the letters had not been read for a while, their impact never lessens.
Romantic
"As soon as they read them again they were back in that moment, that first time they read them. It's really powerful when they're reliving that moment," she said.
After making the radio programme, Miss Price searched museums and military archives from the UK to Australia and Japan for last letters of fallen heroes through the ages.
Three years and 30,000 letters later Miss Price finished compiling her book, If You're Reading This...Last Letters From The Front Line.
The final 70 letters spanned the 17th Century to present day. Many were romantic and poetic while others were matter-of-fact in tone and humorous.
All kept the voice of their loved one alive.
The book holds messages from soldiers over the last 300 years that fought in nine conflicts and from the Napoleonic Wars to Iraq and Afghanistan.
Miss Price said the tone of letters through the ages changed and uncovering letters from Welsh servicemen who fought in the Zulu War in 1879.
Love
"All the letters from that time were so unsentimental, very stiff upper-lip," she said.
"Letters sent during the Napoleonic were very poetic and romantic. During the Second World War letters were again very romantic almost philosophical."
But from the Falkland conflict the tone of letters changed.
"The soldiers were professional now and it was about doing your job and dying for a love of the job rather than the cause," she said.