Cyffin Woodland planted on 140 hectare Yyrnwy farm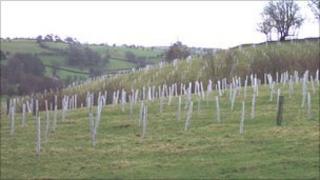 The largest new forest planting scheme in Wales for 20 years is seeing former farmland the size of 140 rugby pitches covered with a range of saplings.
Cyffin Woodland takes its name from the farm in the Vyrnwy Valley, Powys, where 140 hectares (350 acres) are being planted with mostly broad-leaved trees.
A privately-funded environmental charity, Will Woodlands, is sponsoring the work.
The Welsh government has a target to plant 100,000 hectares in 20 years.
The project will see oak, ash, alder, field maple and cherry trees planted on all but some wildlife habitat land on the former farm.
It is the largest planting scheme so far approved by Forestry Commission Wales to deliver the Welsh government's Glastir Woodland Creation scheme.
A full-time forester is being employed to manage the new growth, which aims to link up existing woodland and wildlife habitats.
'Green economy'
A Will Woodlands spokesman said: "Substantial areas of land for new planting, which meets quality and environmental criteria, have been a scarce commodity in north Wales in recent years.
"The opportunity to contribute to the environment and economy of north Wales by planting new, mainly native broad-leaved woodland on this scale is one to cherish."
Forestry Commission Wales woodland officer Ken Smith, said: "More woodland will contribute towards the emerging green economy in Wales by providing a sustainable building material, a renewable fuel and green jobs."
About 14% of Wales is covered by woodlands. Of this, 38% (126,000 hectares or 311,000 acres) is owned by the Welsh government.