Peggy Sullivan, 80, carries on leading fitness classes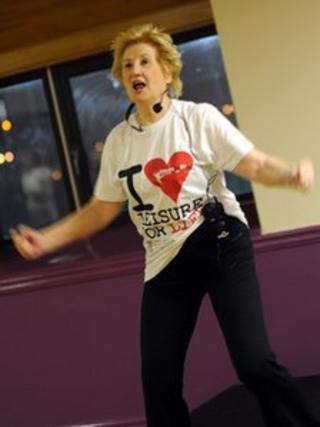 A fitness instructor who is celebrating her 80th birthday says she had no plans to retire.
Peggy Sullivan leads weekly aerobic classes at a sports centre in Rhondda Cynon Taf, where she is an ambassador for its Leisure for Life campaign.
Ms Sullivan began with keep-fit classes in the 1960s, at the age of 30, and then was asked to take a class herself.
She said: "They even had a stage for me to stand on while taking the class. I felt like a pop star."
She added: "By the second week of my aerobics classes, I had 166 women of all ages taking part - it was absolutely amazing."
The youngest person to attend her classes at the Michael Sobell Sports Centre in Aberdare is 16 but they range up to women in their 70s.
She said: "It was always something I had always wanted to do but never had the courage to take the first tentative steps and attend a class.
"That is why I always encourage people thinking of taking up exercise to actually take the plunge and doing it.
"Actually walking into a leisure centre for the first time is the most difficult part - I know, I did it myself all those years ago."
It is estimated Ms Sullivan has helped thousands of women maintain their fitness over the years.