Bouncers Newport 'pessimism' must stop, says Paul Flynn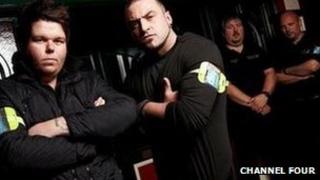 A MP has said it is time for people in Newport to "stop beating ourselves up" over a TV documentary about the antics of late-night revellers.
Bouncers on Channel Four showed doormen making derogatory comments about customers.
Police and the city's council have criticised the programme's portrayal.
Writing on his blog, Newport West MP Paul Flynn said: "This was a tiny slice of the worst of local life. We still have a great city."
Mr Flynn describes the hour-long show as "one malicious TV programme on a minority channel".
He said the "revolting scenes of drunken low life" could have been filmed in any city in the UK.
The upset the film had caused was feeding in to "exaggerated pessimism" about current problems facing the city, he said.
People were "grossly under-informed on the city" which was a place "rich in its proud history, its robust unique character and a lively musical and cultural life".
He said: "Come on, Newport. It's time to stop beating ourselves up."
His comments came after Tracey Lee, managing director of Newport City Council and co-chair of the Safer Newport partnership, said the film had provided a "brief, but disappointing snapshot" of the city's night life.
She said: "Newport is a safe, properly licensed and well policed place for residents and visitors alike to socialise.
"Like many towns and cities across the UK it is not unique or immune to experiencing pockets of anti-social behaviour related to alcohol consumption."
'Booze, brawls and brotherhood'
Gwent Police said they shared in the sense of disappointment.
Newport city centre Inspector Bob Thompson, said: "We are effectively tackling incidents of antisocial behaviour in the city centre around the clock by working together: the police, council and other partners including the third sector, such as the street pastors."
Channel Four trailed the documentary as "this funny, irreverent and often surprising film follows the boys of Newport's biggest security firm over a summer of booze, brawls and brotherhood".