Alun Michael MP wants web providers to fight extremists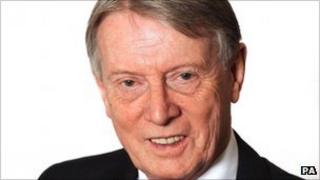 More should be done to engage young people and fight radicalisation through the internet, an MP says.
Alun Michael, MP for Cardiff South and Penarth, said internet service providers should be looking at ways of "combating the problem".
He is a member of the Home Affairs Select Committee, which has warned the UK government not to neglect the threat from extreme far-right terrorism.
Meanwhile, two Cardiff men are due to be sentenced over a London terror plot.
Brothers Gurukanth Desai, 30, and Abdul Miah, 25 are among four men who admitted planning to detonate a bomb at the London Stock Exchange.
The Al-Qaeda-inspired radical Islamists have admitted engaging in conduct in preparation for acts of terrorism.
Five other men have pleaded guilty to other terrorism offences, including Omar Latif, 28, of Cardiff, who admitted attending meetings with the intention of assisting others to prepare or commit acts of terrorism.
All nine, who were arrested in December 2010, are due at Woolwich Crown Court on Monday and are expected to be sentenced this week.
The sentencing comes as the Home Affairs Select Committee published a report warning internet providers to tackle online extremism.
In a report on radicalisation, the MPs said they had heard "persuasive evidence" about the potential danger.
The MPs said violent Islamist radicalisation appeared to be declining but there may be increasing support for non-violent extremist views fuelled by "feelings of alienation".
The committee cited the growth of far-right groups with links to similar organisations in Europe.
Mr Michael called for "those who are involved in the internet industries to be looking at means of combating the problem".
He added: "I don't think it's a question of a new piece of legislation.
"It's a question of working out how people are behaving on the internet and then at the other end of it we need to engage young people - young men in particular - and get them on to a positive way of life, because then they're not vulnerable to radicalisation or gang activity or the other negative things in society".
Mr Michael said for the freedom of the internet to work, "there must be a partnership in working out how to tackle some of the issues of radicalisation and knowledge of the means of violence that come from the web".
He added: "There's definitely a problem with people who choose to go down a radical route and pick up their information from the web.
"One Muslim said to me that 'you should worry more about Sheikh Google than about what's happening at the mosques', and that fits with the evidence that we saw that the mosques, by and large, are not the places of radicalisation and nor are universities."