Nikitta Grender murder trial: Carl Whant has no memory of part of the night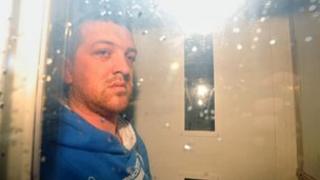 A former bouncer accused of raping and killing a pregnant teenager said he could not remember what he was doing for part of the night of the murder.
Carl Whant, of Bettws, Newport, is accused of stabbing to death Nikitta Grender, 19, in an attack that also killed her unborn child last February.
Newport Crown Court heard he left a party that night but had no memory of part of the evening due to drug abuse.
Mr Whant denies murder, rape, arson and child destruction. The trial continues.
Ms Grender's body was found in her burnt-out flat in Newport on the city's Broadmead Park estate.
She was less than two weeks away from giving birth to a baby girl when she was stabbed in the neck and belly.
Police believe her killer then set fire to the bed where her body was found in a bid to destroy evidence.
Drug abuse
The court previously heard that on the night of the murder, Mr Whant had gone to a party in Newport with Ms Grender's boyfriend Ryan Mayes, who was his best friend and second cousin and worked with him as a double glazing salesman.
Mr Whant, 27, left the party in the early hours of the morning to drive to his grandmother's house to get cigarettes.
But he is alleged to have instead driven to Ms Grender's home where he raped and murdered her.
The jury heard on Wednesday that he later told police in interview that years of drug abuse were affecting his memory.
He had no recollection of driving back to the party from his grandmother's home but denied that he had visited Ms Grender.
The jury listened as more than a dozen interviews he gave to police were read out in court.
Police also drove Mr Whant to his grandmother's address from the party in Corelli Street to check the route he had taken.
Mr Whant is alleged to have left the party between 05:00 and 05:30.
The police re-enactment took place during the 17:30 rush-hour.
The jury heard that that journey took only slightly more than nine minutes.
Mr Whant told police that on arrival he "just tapped" on the glass window of his grandmother's front door
"I did not want to wake up my grandfather. I know it sounds stupid," he said in interview.
"I was hoping my nan would hear the door because she is usually awake quite late in the morning."
Knocking the window
He told police that he had called to get cigarettes at his grandmother's in the past, but could think of no previous example.
During interview he admitted he knew his grandmother slept downstairs alone and he could more easily have knocked on her window.
After the initial tap on the door he waited for between 30 seconds and a minute before leaving, he said.
He said he went back to the party but added that he had no recollection of how he got there.
"I cannot remember which way I went. I cannot remember a single thing apart from knocking on the door at Corelli Street and Ryan opening the door," he said,
"I cannot remember coming back at all but obviously I drove back. I did not fly or anything."
He said six years of drug use had affected his memory, although his memory loss on this occasion was the worst it had ever been.
The trial continues.