Marine Building facade preserved in £6m Penarth hotel revamp plan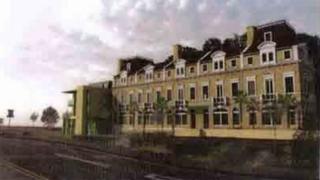 There are hopes of restoring an "eyesore" building on the Cardiff Bay waterfront to its former glory in plans for a 55-room four-star hotel.
The semi-derelict listed Marine Building, a former hotel on the Penarth side of the bay, was built in 1865.
The family behind the £6m plan, who own the Old Custom House next door, say they will keep the building's facade.
The Design Commission for Wales said there were "several positive aspects about the proposal".
The three-storey yellow brick building is constructed in the French renaissance style with pavilion roof towers and ornamental iron balcony features.
Sited yards from the Cardiff Bay barrage, the landmark building's history can be traced to the start of Penarth's life as a Victorian-era holiday destination.
It has previously been used as apartments and offices but has been vacant for about 30 years and gradually deteriorated, suffering fire and water damage.
The renovation plans, due before Vale of Glamorgan planners next month, have been put out to consultation to interested parties.
Cardiff city planners have looked at a report and offered no adverse objection to the proposals, which would add a side and rear extension.
It would include a cafeteria and small wine bar as well as 97 surface or underground car parking spaces.
The report said: "The building is reported to be structurally unsound, having lost a good proportion of its roof, and is reportedly suffering from timber decay and partial collapse internally."
Another body asked for its opinion is the Design Commission for Wales, and Cindy Harris, its head of design review, said: "There are several positive aspects about the proposal, which will breathe new life into the old building by bringing it back into active use.
'Eyesore'
"We welcome the retention of the Grade II listed facade and so it is likely that our report will be broadly supportive of the overall concept, with some relatively minor suggestions."
Tanny Martinez, son of Old Custom House owner Benigno, said the family had wanted to create a hotel on the site since taking over next door in 2000.
He said: "They were both in the same condition 11 years ago. It's 11 years worse now.
"We want to return the building to its former glory. At the moment it's an eyesore. We want to return it to the same standard that we have restored the Old Custom House."
The design commission is expected to issue its report by the end of the month.
The planning bid is heard by Vale of Glamorgan councillors on 29 March.