Awema scandal: Charities must not lose out - Wales Council for Voluntary Action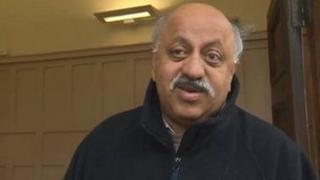 Work is under way to ensure grassroots charities in Wales do not lose out after a leading race equality body had its funding stopped.
The All Wales Ethnic Minority Association (Awema) has been at the centre of allegations of financial mismanagement and bullying.
The Wales Council for Voluntary Action (WCVA) says it is important others are not disadvantaged.
Awema's funding was halted after a damning report by the Welsh government.
The WCVA says it is in talks with the Welsh government to ensure what has happened at Awema does not have an adverse impact on those who depend on charity and voluntary work.
It says the sector as a whole is helping more than 76,000 disadvantaged people around Wales.
Phil Jarrold, WCVA deputy chief executive, said it was "essential that the value of those projects and the probity of the organisations running those projects is recognised".
"Because what we don't want to see is a backing off from supporting the sector to play a part because the sector is reaching some of the most disadvantaged people in Wales," he said.
The Awema affair has been described as "perhaps the biggest scandal around the use of public money since devolution began" by political commentator and public affairs consultant Daran Hill on the Wales Home website.
The investigation for the Welsh government and the Big Lottery Fund follows months of allegations of financial mismanagement and bullying at the Swansea-based organisation.
Since concerns were originally raised about financial practices and the management of projects in Awema, the organisation went on to secure funding commitments for projects worth a total of well over £8m, although £3m of the £5m of Welsh European Funding Office (Wefo) funding which formed part of that had not yet actually been paid to it.
Nick Tregoning, vice-chair of the Swansea Bay Race Equality Council, described events at Awema as shocking.
He told BBC Radio Wales: "The difficulty throughout all of this has been that people look at what has happened at Awema and... assume somehow that what has happened there is true of other race equality councils and networks throughout Wales - and it certainly isn't."
The report published on Thursday said there was a "complete lack of oversight of the financial processes and controls" by Awema chief executive Naz Malik.
It said the charity's funds were used to pay for gym memberships and sports tickets, and a parking fine for Mr Malik.
It also noted a "clear conflict of interest" in that one of the charity's directors reporting to Mr Malik was his daughter Tegwen.
'Decisive action'
An earlier report, commissioned by the charity's trustees, said Mr Malik used funds inappropriately and saw his salary increased without approval from the board.
Finance Minister Jane Hutt said the government had taken "decisive action" by terminating public funding for Awema in the wake of the latest report.
The organisation's chair, Dr Rita Austin, has fiercely defended Awema in the wake of the allegations.
But in a statement on Awema's website she said the Welsh government had produced a "substantial and serious" report which needed to be "properly absorbed" by trustees.
With funding now terminated, she said the board would consider their obligations to Awema's project partners and staff.
Mr Malik, who along with his daughter has been suspended by Welsh Labour, said he would co-operate with all the relevant authorities, including the Welsh government, Auditor General, the charity commission and the police if necessary.