North Wales Police Authority in £26m reserves debate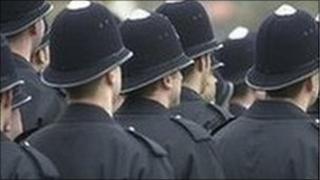 North Wales Police Authority is being urged not to increase its part of the council tax bill because the force has nearly £26m in the bank.
Authority member Chris Drew said the force should spend some of its reserves rather than making people pay more in difficult economic circumstances.
"If an increase can be avoided, perhaps it should," said Mr Drew.
However the police authority's financial experts said spending the reserves could be risky.
The four Welsh forces have faced budget cuts due to the UK government's spending review announced in October 2010.
All four governing bodies will meet this week to decide on next year's precept - the police part of council tax bills.
North Wales Police Authority decided last year that it would plan on increasing its precept by 4%.
But it has revealed that due to "good financial management" it has managed to achieve savings targets ahead of schedule and so has £25,824,000 in the bank.
Mr Drew, one of 17 members of the authority, suggested these reserves could be drawn on at a time when money was tight for many people.
"We should all save money if we can," said Mr Drew, an Independent.
'Further cuts'
"The question is how much of other people's money should we be saving and, really, the task here is that at a time when you've got an income freeze, you've got unemployment - well, let's face it, a lot of people are struggling."
However other authority members have argued that the UK government may make further cuts in the future, forcing it to increase the precept by a much larger percentage.
There are also calls for the reserves to be used to pay for a new police station in Wrexham, which the force would otherwise have to borrow money for.
Alun Lewis, chairman of the North Wales Police Authority, said people in north Wales did not mind paying more if it meant keeping a visible police presence on the streets.
"On the one hand we don't want to hit people in their pockets at a time when people are finding it difficult," said Mr Lewis.
"But on the other hand all the consultation we are doing, people have actually tended to talk about maintaining as much of the current service as we possibly can and, for me, the way to do that is to ensure that our finances are in a good condition to do that."
South Wales Police Authority met on Monday and decided on a recommendation of a 5% increase in the precept there.
The police authorities in Gwent and Dyfed-Powys will meet on Friday. Gwent is looking at two options - either 3.7% or 2.6% - while Dyfed-Powys will be considering a 5% rise.