First-time buyer stamp duty house sales rise in Wales, says RICS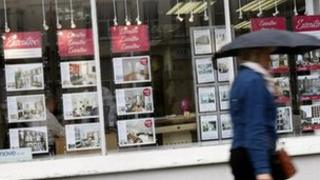 A rush by first-time house buyers to beat the stamp duty deadline has lifted sales in Wales, the Royal Institution of Chartered Surveyors (RICS) says.
A survey found 11% more surveyors reported a rise in sales in January than those who reported a fall.
The 1% stamp duty rate for first-time buyers, on properties worth between £125,000 and £250,000, is being reintroduced on 24 March.
The current stamp duty relief is worth up to £2,500 to a first time buyer.
RICS Wales residential spokesman Tony Filice said time is running out to get a potential property purchase under way.
"There are very few first-time buyers buying at the £250,000 end of the market, most tend to be about £180,000-£200,000 in Cardiff," he said.
"But you can see there is a saving to made and they have have been coming to the market to buy in the last six weeks.
A purchase by a first-time buyer can release three or four sales in a housing sales chain, he said.
He added: "It can still be done from a standing start but there is very tight time frame.
"They will have to find a property in the next few say and expedite the searches and legal work and the mortgage offer.
Mortgages
"It is still feasible but we are literally in the last week of it being possible, which would explain why in the last six weeks we have seen a surge of interest not only from first-time buyers but also vendors who have sold to first-time buyers."
The RICS survey comes after the Council of Mortgage Lenders (CML) said on Monday that the number of mortgages agreed for first-time house buyers picked up at the end of 2011.
Across the UK, there were 18,700 home loans for first-time buyers in December, which was a 7% rise on November and 14% up on December 2010.