Council tax for policing in south Wales increased by 5%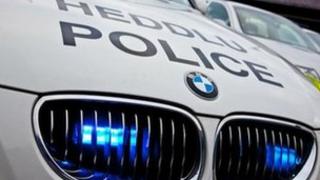 South Wales council tax payers will contribute an extra five per cent towards the cost of policing next year.
It will mean a Band D home will pay two pence more per day, taking the amount being paid to £169.42.
The South Wales Police Authority made the increase despite overall police spending being reduced by £8m as a result of UK government cuts.
Its chair, Russell Roberts, said the authority had been faced with an "impossible" dilemma.
"Setting the budget is a difficult job every year," he added.
"Even though this is the last time this authority will be setting this, it does not get any easier, particularly due to the current financial situation.
"The sheer magnitude of the cuts which have been imposed upon us by central government means that the dilemma facing us was an impossible one."
'Only option'
He said any increase in the current economic climate would be difficult for the public, but added: "We feel that this increase is the most appropriate decision, and the only option for us as a police service."
The increase is equivalent to £8.07 per year for a Band D household, taking the annual total to £169.42 for 2012-2013.
The authority said 65% of south Wales residents live in Band A-C properties, meaning they will pay between £112.94 and £150.59 each per year towards policing.
Mr Roberts said it was "impossible to find further savings without looking at reducing the number of people who work for us".
Criticising the current funding system, he added: "We are responsible for policing Cardiff, our nation's capital city.
"Yet, this is not reflected in our funding. It cannot be right that Lothian and Borders and the Metropolitan Police Service receive additional funding for policing the capital cities of Edinburgh and London, yet we do not receive anything for the additional responsibilities of policing Cardiff."
From next year, council tax precepts and police spending will become the responsibility of police commissioners, to be elected in November 2012.