Llanrwst Tesco public meeting trade loss fears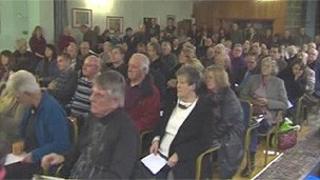 Around 150 people attended a public meeting to voice opposition to plans for a supermarket in the town.
Conwy council, which is considering a redevelopment of the Plas yn Dre area of Llanrwst, is in talks with a firm about whether a Tesco could be sited in the town.
Aberconwy AM Janet Finch Saunders organised the event at Eagles Hotel.
A council spokesperson told the meeting a consultation would be held if firm proposals emerged from the talks.
Cheshire-based Consolidated Property Group has been looking at the possibility of a Tesco store coming to the Conwy Valley town.
Local traders fear a supermarket on the outskirts of the town would pull people away from the centre and kill off business.
Businessman Wyn Williams said: "There are various businesses here. We believe in our town, we've investing in our town and we're created work for people here.
"Llanrwst doesn't need a Tesco. We have one supermarket already and that supermarket does the job for the 3,500 people who live in Llanrwst. We don't need another supermarket here."
He said allowing another supermarket would be like sticking a knife "through the heart of the town".
He added: "We rely a lot on tourism here and if the centre of the town is not attractive, people will not see Llanrwst for what it should be."