Severn Estuary climate change mudflats 'squeeze' report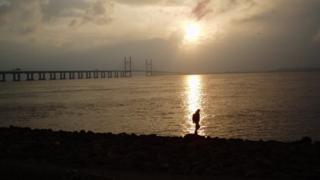 More than three-quarters of the Severn Estuary's mudflats could disappear over the next 100 years as sea levels rise due to climate change, a report claims.
The next 60 years could see water levels rise by 30cm-40cm (12-16in), say researchers at Cardiff University and Environment Agency Wales.
The State of the Severn Estuary report aims to establish a baseline for measuring changes in the area.
Councils and bodies with an interest in the estuary commissioned the work.
A strategy for the Severn Estuary was launched in 2001 after the local authorities and statutory agencies set up the Severn Estuary Partnerhship.
Its report aims to looked at the use and resources of the area "from wildlife to wave formations, energy generation and climate change".
It found 77% of intertidal habitats such as saltmarshes and mudflats faced being "squeezed" against existing sea defences cause a movement of sediment and habitat loss for thousands of wading birds.
The report says: "Climate change could have a substantial impact on biodiversity in the coming years - both by affecting the distribution of our native species, and by enabling some non-native species to become more common.
"Already we are seeing some evidence of animals occurring outside their usual or expected ranges.
"Recent research shows that the (generally northerly) expanding range of some species including marine molluscs, plants, migratory birds and fish are consistent with patterns of climate change seen in the UK over the past 30 years."
Reefs
The report found Severn was different from other estuaries in the south west UK in that it had an extensive "biogenic" reef system created by so-called honeycomb worms which use sand to create hive-like tubes.
The worms are at the northern end of their range and could benefit if climate change causes Severn waters to warm slightly, researchers said.
But, the report found: "However, with coastal squeeze resulting in smaller intertidal areas, the species might actually find its range reduced."
The study found the "human environment" included a spend on tourism and recreation which topped £3.1m in 2008, in addition to the area supportingother industries such as dredging, energy generation and transport.
A combined total of 7,152,217 passengers travelled from Cardiff and Bristol airports in 2010.
Miranda Krestovnikoff, presenter of the BBC's Coast, was one of the residents who took park in the research.
'Residents to industry'
She said: "I've lived here for the last 20 years and its future is incredibly important to me.
"I have seen how the health of the environment underpins the socio-economics of the estuary and appreciate the paramount importance of managing this resource in an integrated and sustainable way."
Severn Estuary Partnership officer Paul Parker said: "We believe this report, the first to address such a broad range of estuary-wide features, will inform and raise the interest of all those around the Severn, from residents to industry professionals alike."