£60k for ex-Arsenal and Wales footballer Charlie Jones memorabilia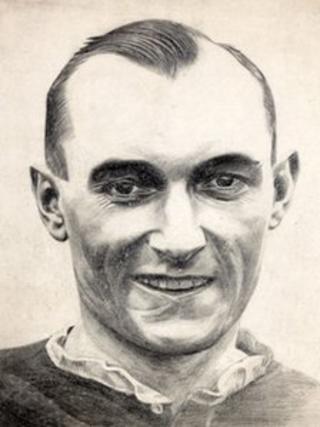 Football memorabilia from 80 years ago which belonged to Wales captain and Arsenal star Charlie Jones has sold at auction for £60,189.
Born in Troedyrhiw, Merthyr Tydfil, Jones started at Cardiff City, and won three league titles with the Gunners at the end of his career in the 1930s.
The auction in Chester included shirts, medals and Wales caps.
The same sale also saw the Football Association of Wales buy a shirt once worn by late Wales manager Gary Speed.
Five items once owned by Wales World Cup squad player Derrick Sullivan also made £3,712.
Sullivan, born in 1930, played for Cardiff, Newport and Ebbw Vale, among other clubs, and was in the Wales squad for the 1958 World Cup in Sweden.
His lots included three caps, a World Cup Sweden glass vase and identity card and a Welsh Cup Winners (runners-up) trophy.
Memorabilia once belonging to Jones, who won eight caps for Wales as a winger and ball-winning midfielder, attracted considerable interest from Arsenal fans.
Jones, who was born in 1899, was released after one game for Cardiff in the early 1920s and joined Stockport County.
He went on to play for Oldham Athletic and Nottingham Forest, before signing for Arsenal in 1928 under Herbert Chapman, where he won three First Division championships in the early 1930s.
He retired at the end of the 1933-34 season aged 34, and went on to manage Notts County from May 1934 to December 1935. Jones died in 1966.
The most expensive item sold on Wednesday was a 1933-34 Arsenal Division One champions medal, which sold for £11,875.
A similar medal for the previous season made £8,750 and another, for the 1930-31 season, fetched £10,000.
A 1932 Arsenal FA Cup runners-up medal, expected to fetch up to £2,500, was bought for £4,000.
A 1932 Arsenal FA Cup shirt sold for £3,500.
Among the other Wales-related lots were various international caps and shirts.
The Football Association of Wales (FAW) attended the sale, and before the auction, spokesman Ceri Stennett, admitted he had been in "hopeful mode, not confident mode," because many of the Charlie Jones items were likely to be of interest to "well-heeled" London collectors, particularly those keen on the Arsenal collection.
However, he managed to buy a bundle of programmes for £1,500 plus commission, which included two 1926 programmes for Wales matches against England and Scotland during Jones's era.
Mr Stennett said the price had been "relatively cheap" for sought-after programmes.
He described Jones as one of the "unsung heroes" of Welsh football in the 1920s and 1930s, because clubs were often reluctant to release players for international duties from the smaller home nations.
He added: "In those days, internationals were often held on Saturdays.
"Arsenal were the team at the time - the Manchester United or Chelsea of the day.
"If there was an international on a league day, then the big teams might release the English players, because that was looked upon as an honour.
"They would then quite happily say 'We can't afford to release Charlie Jones, or whoever, because we can't afford to lose him'."
The FAW had planned on buying items once belonging to Derrick Sullivan, but they fetched higher prices than expected.
However, Mr Stennett bought a match-worn Newcastle United shirt once belonging to former Wales player and manager Gary Speed, who was found hanged last year.
He said: "It just seemed like fate. The bidding was opened at £150, and I was the only bidder.
"We have a Wales shirt which Gary had kindly given us previously.
"In light of our circumstances, I thought it was only fitting to bring this one home as well."
The auction at Bonhams was part of a sporting memorabilia sale which included items once belonging to the late George Best and Liverpool legend Tommy Smith.