Six Bonmarche stores across Wales have been earmarked for closure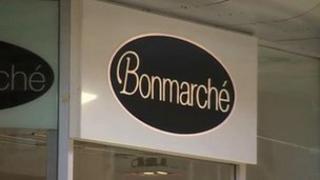 A decline in customer spend and rising costs, in the current economic climate, is blamed for closure plans at six Bonmarche stores across Wales.
Stores in Aberystwyth, Bangor, Brynmawr, Carmarthen, Newtown and Llanelli are on the list.
Twenty other Bonmarche stores across Wales will remain open.
Last month the fashion chain, which was part of the Peacocks Group, was bought by a private equity group Sun European Partners.
A Sun European Partners spokesman said the company would be closing 160 stores out of 230 Bonmarche stores across the UK.
A Bonmarche spokesperson said no closure dates had been confirmed and the number of redundancies is also uncertain as staff will be offered relocation.
"The decline in customer spend in the current economic climate, coupled with rising costs has made trading very difficult in these areas," said the spokesperson.
"However, such stores are being constantly reviewed and careful consideration given."
The company is in discussion with landlords and councils to "reduce costs and improve town amenities".
"We are looking at the convenience of the customer and the distance she will have to travel to an open store," the spokesperson added.
No date has been set for the closures.
The company said it will endeavour to relocate staff to vacancies in neighbouring stores.