Post-traumatic stress disorder: Ex-forces review call by Welsh Conservatives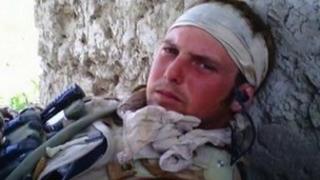 A review of improvements in treating post-traumatic stress disorder (PTSD) among ex-service personnel is being urged by Welsh Conservatives.
During a debate in the assembly, Tory AM Darren Millar highlighted the case of L/Sgt Dan Collins, 29, from Pembrokeshire, who was found hanged.
Mr Millar called for progress after a cross-party report identified problems.
The Welsh government said Wales was the only UK country with a dedicated service.
In a report last year, the assembly's health, wellbeing and local government committee identified problems with the identification of PTSD in veterans, a lack of data, and inadequate and inappropriate services for veterans with the condition.
Mr Millar: "Whilst a lot has happened since the publication of that report, improvements still are required."
There was a "post-code lottery" in treatment, he added.
He urged the government to hold a "thorough review" and said ministers should report back to the chamber "to ensure that people get them when they need them".
"It's time for the Welsh Labour government to be honest about the progress that's been made on this vitally important issue," he said.
L/Sgt Collins, of Tiers Cross, who was found hanged on New Year's Day, was said to have faced a constant battle with PTSD and had previously tried to take his own life.
His girlfriend Vicky Roach said he had been deeply troubled but struggled to talk openly to his family about his experiences.
L/Sgt Collins, a Welsh Guardsman, served in Helmand Province in Afghanistan where he escaped death on several occasions and lost two of his best friends.
'Immense pressure'
Clwyd West AM Mr Millar said: "The very moving case of L/Sgt Dan Collins is one that will haunt me forever.
"The immense pressures and strains that this 29-year-old must have gone through are beyond imagining."
He added: "We owe it to Dan and his loved ones to make sure that those suffering from post-traumatic stress disorder get the best services possible."
Health Minister Lesley Griffiths said the Welsh government took its responsibility to personnel, veterans and family seriously.
"That is not to say everything is perfect," she said.
Conflicts meant Wales was likely to see an increase in veterans "bearing the physical and emotional scars of what they have experienced".
Wales was the only UK country with a nationally-available service for the mental health and wellbeing service for veterans, Ms Griffiths said.
She added that the government was providing funding of £500,000 to make sure each local health board had an experienced clinician working on veterans' mental health.
The Welsh government said Health Inspectorate Wales was reviewing medical services available, including those for PTSD.
A spokesperson added: "All veterans have a right to priority treatment for service-related conditions according to clinical need and this would apply in mental health services as in the rest of the NHS."
A spokesman said Mrs Griffiths had written to health boards reminding them of their responsibilities to veterans and asking them to report to her on what actions have been taken by the end of next month.