250 jobs lost across Northern Ireland as Peacocks closes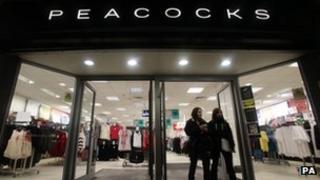 The clothing retailer, Peacocks, is to close 19 shops in Northern Ireland with the loss of more than 250 jobs.
The business was placed into administration in January and has now been sold to the Scottish retailer, Edinburgh Woollen Mill.
However, ten stores will remain open, saving 140 jobs.
These are located at the Connswater and Westwood stores in Belfast, Larne, Downpatrick, Dungannon, Limavady, Newry, Omagh, Armagh and Strabane.
All other branches have ceased trading with immediate effect.
The stores closing are in Bangor, Craigavon, Carrickfergus, Antrim, Ballymoney, Banbridge, Ballynahinch, Ballyclare, Magherafelt, Lisburn, Ballymena, Portadown, Londonderry, Cookstown, Coleraine and Blooomfield in Bangor.
The three Belfast branches to close are in the Park Centre, Cityside and its flagship branch at Donegall Place in the city centre.
The Bon Marche store in Anne Street, Belfast, is also closing. Bon Marche is part of the Peacocks group.
Chris Laverty from KPMG, who were acting as administrators, said: "Today's deal ensures the continued trading of a well known name on the high street.
"While it is unfortunate that redundancies have been necessary, we are pleased that we have been able to preserve the majority of the business and jobs."
Peacocks, with 611 stores and 49 concessions across Britain, had employed 9,100 people.
But it went into administration in January having failed to restructure a key £240m part of its total £750m debt.
About 250 staff at the group's Cardiff HQ lost their jobs following the move, and there will be another 16 job losses in the city after Wednesday's sale - leaving around 250 staff.
Peacocks had suffered from a decline in consumer spending due to the tough economic conditions.
Philip Day, chairman and chief executive of the Edinburgh Woollen Mill Group, based in Langholm in Scotland, said: "We look forward to working with our new colleagues to rebuild the business in what is a very tough economic environment for High Street retailers in the UK."
Barclays and Santander banks have agreed to help Edinburgh Woollen Mill Group with funding for the acquisitions.
Mr Day the acquisition would give further depth to the group's range of trading profiles and assert its position as one of the UK's leading High Street fashion and clothing retailers.